Tweet
InfoWarsNightlyNews.net - April 5, 2012
Editor's Note: InfowarsNightlyNews.net is working hard to present a concise but informative news page where you can find a wealth of each days news at your fingertips. Occasionally you may find a minor mistake such as the wrong day or date etc. in a spot, but we try our best with limited resources to give you a power packed daily page. We hope you will find it to your benefit.

Kurt Nimmo
Infowars.com
April 5, 2012
Senator Barbara Boxer's MAP-21 (Moving Ahead for Progress in the 21st Century Act) is headed to the House after clearing the Senate last month. Boxer's bill allows the federal government to revoke the passports of citizens the IRS claims owe taxes.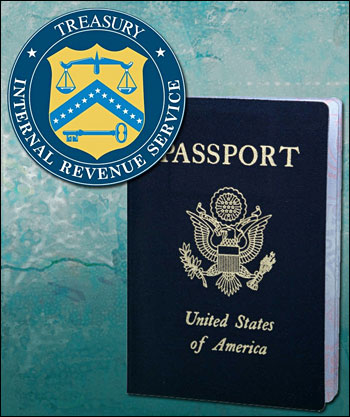 "There is no requirement that the tax payer be guilty of or even charged with tax evasion, fraud, or any criminal offense — only that the citizen is alleged to owe the IRS back taxes of $50,000 or more," reports The Daily Economist.
In other words, the Fourth Amendment will become irrelevant in many taxes cases if this legislation makes it through the House. MAP-21 does, however, face opposition by some Republicans.
In order to blunt criticism, Boxer's bill is being portrayed in standard class warfare fashion – according to CBS and others, the law will be used to go after wealthy tax scofflaws who owe the IRS $50,000 or more, so the average citizen need not worry.
In fact, the IRS routinely leans on the little guy and small business owners. For instance, in 2010 the owner of a car wash in Sacramento, California, was harassed by the IRS after the government said he owed four cents in back taxes (which became $200 after three years of penalties and fees).
The IRS is also used by the establishment as a political weapon, as various Tea Party organizations around the country recently learned.
"In January and February of this year, the Internal Revenue Service began sending out letters to various local Tea Parties across the country," writes Colleen Owens. The federal wealth confiscation agency asked the political groups to identify their volunteers and donors. "What possible reason would the IRS have for Tea Parties to 'name your donors' when said donations are non-deductible?" Owens notes (most Tea Party organizations are nonprofit 501(c)(4) and donations are not deductible).

(Article continues below)

IRS to Suspend Passport Rights if You Owe Taxes





News Articles in this segment




Chief Justice John Marshall once observed that "the power to tax involves the power to destroy" and that is precisely what the government often attempts to do, as former Florida House Speaker Marco Rubio discovered in 2010.

The IRS is no longer strictly about taxes. "Top IRS officials have been working with Democrats on Capitol Hill to determine how the agency will enforce President Obama's new health care law. Republican lawmakers estimate the legislation will require the hiring of many thousands of new (and armed) tax enforcement agents," Fox News reported last month. "Under the new law, the IRS is required to fine taxpayers thousands of dollars if they do not purchase health insurance. In order for the government to enforce compliance, tax authorities will need information, for the first time, about people's health care. Collecting that data will require more IRS personnel."

In short, the IRS will act as an enforcer – armed to the teeth – for Obamacare, that is if it is not ruled to be unconstitutional by the Supreme Court in June.

The IRS is but one component of an increasingly tyrannical and militarized federal government.

"The Department of Homeland Security recently stoked concern by contracting a company to provide them with 450 million rounds of hollow point bullets. Now the federal agency is also purchasing bullet-proof checkpoint booths that include 'stop and go' lights," writes Paul Joseph Watson today. "The purpose behind the bullet proof booths is unknown, but the DHS has publicly announced that it plans to increase the number of unannounced checkpoints manned by TSA VIPR teams and other federal agents beyond the 9,300 that were set up last year alone."

The IRS move on supposed tax scofflaws by denying them the ability to travel abroad is part of a larger effort to control the movement of citizens in the same way citizens in the Soviet Union were forced under propiska laws to ask the government for permission to travel – and exiled dissidents were forced to live in isolated far-flung towns under virtual house arrest.

As we noted in 2011, an internal passport for Americans is codified under the December 2004 Intelligence Reform and Terrorism Prevention Act. If fully implemented, Ron Paul has warned, it will allow "the government to establish a Soviet-style internal passport system" that would subject "every citizen to surveillance and screening points" of the sort the DHS is now expanding across America.

**********

---
Infowars.com
Friday, April 6, 2012

It looks like we will have a challenge selecting the right two people to join the Infowars team as reporters because of the response we are receiving from talented folks who want to take the struggle against tyranny to the next level.

(Article continues below)

Infowars Contest: Massive Explosion of Patriot Reporters




**********

---
Establishment is creating the myth of white on black violence to take everyone's rights

Paul Joseph Watson & Alex Jones
Infowars.com
Monday, April 2, 2012

The Obama administration, its supporters, and the establishment media are engaged in a transparent effort to whip up racial tension over the Trayvon Martin shooting in a bid to chill second amendment rights and polarize the American people as part of an election stunt.

(Continues below)

"Brandishing a Weapon will Bring a Tense Situation to a Complete Halt" Sheriff Mack




News Articles in this segment




In doing so they are manufacturing a race-baiting myth that threatens to cause genuine racial unrest – the notion that white on black hate crimes are a problem of epidemic proportion when in reality federal crime statistics prove that the opposite is true.

Despite a witness telling Sanford police that he saw Martin attacking George Zimmerman before the fatal shot was fired, clearly suggesting Zimmerman was acting in self-defense, along with new video showing that Zimmerman was injured during the confrontation, the administration has exploited the tragedy to create momentum for the right to self-defense to be abolished altogether.

During a CBS News interview which aired yesterday, Vice-President Joe Biden said the incident would re-open debate on the "Stand Your Ground" self-defense law, while also flagrantly lying about the second amendment.

"The idea that there's this overwhelming additional security in the ownership and carrying concealed and deadly weapons… I think it's the premise, not the constitutional right, but the premise that it makes people safer is one that I'm not so sure of," Biden said.

In reality, as Gun Owners of America documents, firearms are used 2.5 million times a year in self-defense. "Law-abiding citizens use guns to defend themselves against criminals as many as 2.5 million times every year — or about 6,850 times a day," a GOA factsheet notes. "This means that each year, firearms are used more than 80 times more often to protect the lives of honest citizens than to take lives." In the vast majority of cases, brandishing a firearm prevented an attack of crime, the statistics reveal.

In light of the NRA's recent warning that Obama would use his second term to ban firearms, in addition to newly uncovered footage in which Attorney General Eric Holder calls for Americans to be "brainwashed" out of their support for gun rights, the administration is clearly invoking the Trayvon incident to prepare the groundwork for Obama to clamp down on the second amendment if he is re-elected.

While Obama waded into the controversy by proclaiming Trayvon to be the son he never had, his supporters have played on race to generate hysteria and a lynch mob mentality. Al Sharpton's call for civil disobedience threatens to stimulate racially-fueled clashes, while Spike Lee's decision to tweet what he believed to be Zimmerman's home address, only for it to be the home of an elderly couple who had to go into hiding, illustrates how far beyond the pale the entire situation has been hyped.

Meanwhile, despite a week of intense media scrutiny, Twitter has still failed to delete an account entitled 'Kill Zimmerman' which incites readers to murder the accused shooter in cold blood. Imagine if white supremacists reacted to a white man being shot by a black man by setting up a twitter account calling for the black man to be hunted down and killed lynch-mob style. Do you think Twitter would delete the profile?


The fact that the establishment media, at the direction of race-baiting Obama supporters like Al Sharpton and Obama himself have artificially manufactured racial controversy around the Trayvon Martin shooting is manifestly provable.

NBC News had to admit that they had deliberately edited a call between George Zimmerman and a 911 dispatcher prior to Martin's death in order to make Zimmerman appear racist, by removing the part of the call where the dispatcher directly asks Zimmerman if Martin is white, hispanic or black.

Despite making up only 8 per cent of the population of the United States, black on white violence is seven times more likely to happen than the converse. Whether people like that or not, it is a fact, but you will never see the establishment media even acknowledge it, never mind start a public debate on the root causes of why it is happening.

These statistics come from a New Century Foundation analysis of federal crime statistics.

You will also never hear a discussion about why, "blacks are 39 times more likely to commit a violent crime against whites then vice versa, and 136 times more likely to commit a robbery," as Ken LaRive documents.

In addition, you will never witness a national debate over a spate of incidents that have occurred over the last two years in which gangs of black flash mobs go on violent rampages targeting non-blacks.

If Jesse Jackson, Spike Lee and their ilk showed half as much concern for the fact that black culture, particularly in the form of rap music, promotes and glorifies violence, which undoubtedly is one of the major causal factors behind these statistics, as they are showing in their efforts to whip up racial tension over the Trayvon shooting, America would be a much more harmonious place.

But this isn't really about representing black people or highlighting genuine concerns over racism, it's about firming up Obama's support base with the election just over six months away. If the administration can exploit enough tragic incidents like the Trayvon shooting to polarize the American people and rally recalcitrant liberals into re-affirming their support for Obama, another four years in White House can still be obtained.

*********************

Paul Joseph Watson is the editor and writer for Prison Planet.com. He is the author of Order Out Of Chaos. Watson is also a regular fill-in host for The Alex Jones Show and Infowars Nightly News.


**********

---


Quote of the Day:
But there's a solution that's theoretically possible. I call it the Johnny Anti-Appleseed Solution. Instead of being cursed with our fertility, I would bless us with infertility. Now this could happen because male sperm counts are falling because of plastics and the estrogen [unintelligible] naturally. [...] We need to sterilize everybody on the Earth [laughter] and make the antidote freely available to anybody who's willing to work for it.

Infowars News: 2012-04-05 (Full)




The

INFOWARS NIGHTLY NEWS

airs weeknights at 7 PM CENTRAL. Become a

PrisonPlanet.tv subscriber

and help support the broadcast as we try to reach a new threshold of audience reach in attempt to warn humanity about this time of great struggle.



**********

---
Alex Jones Live 2012-04-05 (Full)

On the Thursday, April 5 edition of the Alex Jones Show, Alex talks with John Perkins, author of the New York Times bestseller Confessions of an Economic Hit Man. Perkins spent the 1970s working as an economic planner for an international consulting firm. In his book he describes how the globalists force the economic hegemony of the banksters, the IMF and World Bank on victim nations in the third world. "Economic hit men are highly paid professionals who cheat countries around the globe out of trillions of dollars," Perkins writes. He is also the author of The Secret History of the American Empire: The Truth About Economic Hit Men, Jackals, and How to Change the World and Hoodwinked: An Economic Hit Man Reveals Why the World Financial Markets Imploded -- and What We Need to Do to Remake Them. Alex also talks with Infowars.com journalist and editor Patrick Henningsen about U.S. soldiers trafficking arms and drugs to DEA agents posing as Los Zetas. Alex also talks to Lord Christopher Mockton about the current Climate Change battles and Agenda 21.


Thanks to You Tube Channels Astonisher, ConspiracyScope and NWOTaser

InfoWarsNightlyNews.net is not connected with InfoWars.com except in the necessity to get out the message of liberty and freedom while standing in resistance against the criminal elite who have hijacked the constitution and are attempting to implement draconian world government laws to bring us into slavery 1984 style and beyond. Any comments, questions or copyright issues Email nwotaser@yahoo.com.

**********

---