Abortion Chinese Style Coming to U.S.?; DHS Buying Up Ammo; Call for Mega City Population Lock-Up; AZ Cold Case Posse Fights Corrupt Administration

Tweet
InfoWarsNightlyNews.net - March 29, 2012
Editor's Note: InfowarsNightlyNews.net is working hard to present a concise but informative news page where you can find a wealth of each days news at your fingertips. Occasionally you may find a minor mistake such as the wrong day or date etc. in a spot, but we try our best with limited resources to give you a power packed daily page. We hope you will find it to your benefit.
Can't happen here? Top academics and eugenicists are calling for what Obama's science czar once advocated
Paul Joseph Watson
Infowars.com
Thursday, March 29, 2012
This is the shocking face of China's brutal one child policy which many academics and pressure groups are now calling to be imposed in the west – the image shows a 9 month old baby lying dead in a bucket, forcibly aborted by Chinese family planning authorities in the town of Moshan, Shandong province.
Because the parents of the baby already had a child, they were hunted down and forced to comply with China's draconian one child policy. The mother was injected with a poison that induced an abortion, but after the baby was "pulled out inhumanly like a piece of meat," it was still alive and began to cry before doctors slung the defenseless child into a bucket and left it to die.
The time stamp on the image tells us the baby was killed on Monday. The image began circulating today on Weibo, China's version of Twitter, which has around 260 million members. The story has attracted widespread revulsion directed against the family planning authorities responsible for the murder of the baby.
China's one child policy is enforced by way of forced abortions, infanticide and compulsory sterilization. In many cases, women are literally kidnapped off the street by state goons from the "Birth Control Office," driven to government hospitals, drugged, and their child is forcibly aborted. (Continues below)

Barbaric Abortion Policies In China: Is The U.S. Next?




In one case in 2009, both a young woman and her baby were killed after such an abduction in Liaocheng City.

"According to a Doctor at the hospital where the two died, the young woman was kidnapped by the "Birth Control Office" and taken to the hospital where she was forced to undergo an abortion procedure," reported the Epoch Times.

"The young woman fought with staff to protect her unborn child however a half a dozen men, pushed her down on a bed and injected her with a drug to induce labor. After the young woman had a still birth, she developed a massive hemorrhage and soon thereafter died."

The practice of infanticide has its origins in barbaric eras of ancient history, but it is still common is many areas of the world today, including China where the one child policy allied with the social pressure to have boys has resulted in a massive imbalance in the population. Studies have found that 40 million girls are 'missing' in China as a result of gender-selective abortion and infanticide. In India, there are 50 million less females for the same reasons.


Advocates of population control, which is nothing more than a disguise for modern day eugenics, have long pressured for the one child policy to be enforced in the west. In 2009, an article written in Canada's National Post argued for "A planetary law, such as China's one-child policy, is the only way to reverse the disastrous global birthrate."

In his 1977 book Ecoscience, current White House science czar John P. Holdren floated the idea of forced abortions and compulsory sterilization, amongst a raft of other draconian population control measures, all of which would be carried out by a "Planetary Regime".

During a speech at Sichuan University last year, Vice President Joe Biden told an audience that he "fully understands" China's one child policy.

News network CNN, in addition to billionaire Ted Turner and other elitists, along with a whole host of pressure groups committed to pushing for population control, have all advocated the one child policy.

As we reported last month, a paper published in the Journal of Medical Ethics authored by top academics at the University of Melbourne argued that abortion should be extended to make the killing of newborn babies permissible, even if the baby is perfectly healthy.

The authors argued that "both fetuses and newborns do not have the same moral status as actual persons," and that because abortion is allowed even when there is no problem with the fetus' health, "killing a newborn should be permissible in all the cases where abortion is, including cases where the newborn is not disabled."

The scintilla of hope that we can take from this distressing story is the fact that this baby's precious few minutes of life before it was murdered were not in vain and in fact could end up meaning more than most people who live to old age. Why? Because as a result of seeing this one image, scores of couples around the world could decide against having an abortion, saving many more babies' lives in the long run.

The image also serves as a damning condemnation of China's arcane one child policy, as well as a warning that calls to impose similar population control measures in the west should be forcefully discredited, resisted and rejected at every turn.

This story is an Infowars English-language exclusive.

*********************

Paul Joseph Watson is the editor and writer for Prison Planet.com. He is the author of Order Out Of Chaos. Watson is also a regular fill-in host for The Alex Jones Show and Infowars Nightly News.

**********

---
The American Dream
Thursday March 29, 2012
Somebody out there has decided that the Department of Homeland Security needs a whole lot of ammunition. Recently it was announced that ATK was awarded a contract to provide up to 450 MILLION hollow point bullets to the Department of Homeland Security over the next five years.(Continues Below)

Disarming America: Homeland Security Buys Up Ammo Supplies
More News/Links Covered in this Segment
Is it just me, or does that sound incredibly excessive? What in the world is the DHS going to do with 450 million rounds? What possible event would ever require that much ammunition? If the United States was ever invaded, it would be the job of the U.S. military to defend the country, so that can't be it. So what are all of those bullets for? Who does the Department of Homeland Security plan to be shooting at? According to the U.S. Census, there are only about 311 million people living in the entire country.
So why does the Department of Homeland Security need 450 million rounds of ammunition? Either this is an incredible waste or there is something that the Department of Homeland Security is not telling us.
I could understand if the U.S. military was ordering ammunition in this quantity. When you fight wars you can go through ammunition very rapidly.
But the Department of Homeland Security is only supposed to be shooting at people very rarely.
It simply does not make sense that they would need so much ammunition.
The following is an excerpt from the official press release about this deal between ATK and the Department of Homeland Security….
ATK announced that it is being awarded an Indefinite Delivery/Indefinite Quantity (IDIQ) agreement from the Department of Homeland Security, U.S. Immigration and Customs Enforcement (DHS, ICE) for .40 caliber ammunition. This contract features a base of 12 months, includes four option years, and will have a maximum volume of 450 million rounds.

ATK was the incumbent and won the contract with its HST bullet, which has proven itself in the field. The special hollow point effectively passes through a variety of barriers and holds its jacket in the toughest conditions. HST is engineered for 100-percent weight retention, limits collateral damage, and avoids over-penetration.

"We are proud to extend our track record as the prime supplier of .40 caliber duty ammunition for DHS, ICE," said Ron Johnson, President of ATK's Security and Sporting group.
But this is not the only kind of ammo that the DHS is placing an order for.
Business Insider is also reporting that the Department of Homeland Security is seeking to buy 175 million rifle ammunition rounds….
We've also learned that the Department has an open bid for a stockpile of rifle ammo. Listed on the federal business opportunities network, they're looking for up to 175 million rounds of .233 caliber ammo to be exact. The 223 is almost exactly the same round used by NATO forces, the 5.56 x 45mm.
This all comes at a time when gun sales are absolutely going through the roof in the United States.
Gun manufacturer Sturm, Ruger & Co. recently announced that it would be suspending new orders until May because it received orders for more than one million guns during the months of January and February.
The following announcement about this suspension of sales comes from their official website….
The Company's Retailer Programs that were offered from January 1, 2012 through February 29, 2012 were very successful and generated significant orders from retailers to independent wholesale distributors for Ruger firearms.
Year-to-date, the independent wholesale distributors placed orders with the Company for more than one million Ruger firearms.
Despite the Company's continuing successful efforts to increase production rates, the incoming order rate exceeds our capacity to rapidly fulfill these orders. Consequently, the Company has temporarily suspended the acceptance of new orders.
The Company expects to resume the normal acceptance of orders by the end of May 2012.
Since Barack Obama first took office, gun sales in America have risen to extraordinary levels.
Overall, more than 10 million guns were sold in the United States during 2011.
And gun sales have continued to rise at a brisk pace in 2012. The following was recently posted on Yahoo News….
The NSSF said that 920,840 instant criminal background checks were made in January alone, a gain of 17.3% over the same month in 2011. This now makes it the 20th consecutive month of increases. While using the number of background checks is a good measurement of sales, it doesn't paint the whole picture as some checks are used for the purchases of multiple firearms. Also, some private transfers and sales from gun shows are exempt, making the actual number of guns sold higher.
According to Gallup, 41 percent of all Americans said that they owned a gun in 2010. But when that question was asked again in 2011, that number had risen to 47 percent.

Clearly, a lot of Americans are feeling the need to arm themselves.

Unfortunately, they may find themselves short on ammunition for those guns considering how much ammo the government is buying up.

So what is causing everyone to buy so many guns?

**********

---
Jurriaan Maessen
Infowars.com
March 29, 2012

In a recent statement put out by "Planet Under Pressure" several scientists call for denser cities in order to mitigate worldwide population growth. When in doubt that UN's Agenda 21 is not the Mein Kampf of our day, one should consider yet another in-your-face confession from yet another certified biocratic control freak. (Continued Below)

United Nations Soft-Kill Depopulation Agenda Exposed with Jurriaan Maessen
More News/Links Covered in this Segment

According to an MSNBC article one of the scientists while speaking about human populations worldwide, stated:
"We certainly don't want them strolling about the entire countryside. We want them to save land for nature by living closely [together]."
Insisting the world's population be locked up within the confounds of mega-cities, the elite realizes that if the herd is to be properly controlled walls are needed- thick walls, and by constructing these walls, making the masses go this or that way will be made easier..
Chief scientist Michail Fragkias involved with "Planet under Pressure" told MSNBC that "the answer (to population growth) is denser cities."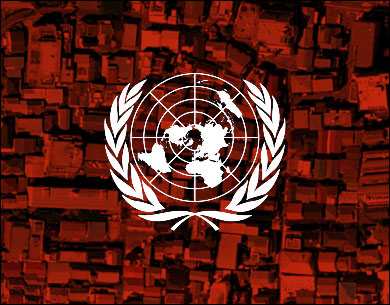 The conference, co-sponsored by NASA and UNEP by the way, released its statement calling for denser cities to mitigate "worldwide population growth" ahead of the Rio+20 United Nations Conference on Sustainable Development taking place in June of this year.

"If cities can develop in height rather than in width that would be much more preferable and environmentally not as harmful", Fragkias said.

People who know anything about history know that the creation of mega-cities in which the masses may be rounded up and enclosed, is identical to the Nazi principle of the "ghetto" as a means of managing the masses. Every student of history may also know what happens to those masses shortly after.

Some of the organizers of "Planet under Pressure" are founding their plea on the notion that we (as humanity) have entered the "Anthropocene": a new geological era in which humans- not natural conditions- are the main drivers of geological and meteorological processes. Citing a website devoted to this concept, Martin Rees of the Royal Society stated at the conference:

"This century is special in the Earth's history. It is the first when one species — ours — has the planet's future in its hands," reports the AFP news agency. "We've invented a new geological era: the Anthropocene.", he stated.

This echoes yet another scientist, a professor at the University of Colorado, who in recent times also mentioned this new era in relation to a call for population control when he stated:

"Scientists now speak of humanity's increased demands and impacts on the globe as ushering in a new geological epoch: the Anthropocene. Such selfish and destructive appropriation of the resources of the Earth can only be described as interspecies genocide."

In addition the professor said: "Ending human population growth is almost certainly a necessary (but not sufficient) condition for preventing catastrophic global climate change. Indeed, significantly reducing current human numbers (emphasis added) may be necessary in order to do so."

The call for compact cities, filled to the brim with humans, is part of the UN's depopulation agenda for sure. Within these proposed mega-cities humans will be allowed to use RFID technology so they can be kept in check. The rest of the world, the "countryside" as one of the scientists told MSNBC, is reserved for the elite.


**********

---
Patrick Henningsen
Infowars.com
March 29, 2012
PHOENIX – Arizona's state legislature is currently pushing through a "Candidate Certification Bill" which will directly address the issue of President Obama's eligibility to hold elected federal office, and ultimately determine his place on the state election ballot come November. (Continued Below)
Sheriff Arpaio: Obama's Records Are Missing + Mike Zullo, Jerome Corsi Full Interviews




But there exists an effort underway behinds the scenes, which threatens to stall – and eventually kill the legislation.

The bill will require any candidate to sign an affidavit confirming their eligibility documentation, and would impose a penalty for perjury if they were later found to be ineligible.

The bill was presented at a press conference which took place on Tuesday inside the state's historic capitol court room. Amidst an almost complete national media black-out on the issue, AZ Bill HB2480, spearheaded by State Representative Carl Seel(R), has since passed the Senate Government Reform Committee, but has become stuck in a senate committee.

In addition to members of the state legislature, the bill has received the full backing of Maricopa County Sheriff Joe Arpaio, who had assembled a Cold Case Posse some 6 months ago in order to investigate evidence that Barack Obama's electronic birth certificate. The document was released last year by the White House and posted on their website in PDF form, but Arpaio's own law enforcement investigation has so far concluded that the President's document indicates both forgery and fraud. It was these very concerns which prompted Rep. Seel to draft this latest eligibility bill.

According to Seel, "It gives the average citizen the capacity… to challenge any candidate appearing on the Arizona ballot, whether they are properly qualified to be on the said ballot… and the capacity to preserve, defend and protect their Constitution."

Despite the fact that the bill has the support of both the state's house and senate, it's still being held up by Senate President Steve Pierce (R) who has yet to clear the way for a floor debate on the bill.


Pierce claims that he will not clear the way for HB 2480 until Sen. Nancy Barto (R) who chairs the Committee on Healthcare and Medical Liability Reform, where the bill is assigned – and is currently being stalled, allows its passage through.

Dirty tricks behind the scenes?

According to Seel, the reason the bill has been stalled is because of a rather unreasonable request by Sen. Barto. In an unprecedented move, Sen. Barto has solicited from Rep. Seel a "laundry list" – a fully initialed, full list of names of all Arizona Senators who have committed to vote in support the controversial bill.

This request for a 'laundry list' flies in the face of the normal honor's system practice, whereby law makers normally give their bond in the form of a verbal commitment for support of a bill.

Critics of this unorthodox move might rightly suspect that by possessing the names of each legislator beforehand, Sen. Barto – or perhaps another third party, could then get to each of the bills' supporters before a vote reaches the floor – in order to change the natural outcome of a vote. If the bill was voted down in this way, it would effectively kill off any future attempts to revive such legislation.

Additionally, such an outcome would also take Arizona Governor Jan Brewer(R) out of this controversial spotlight, as she was the person who vetoed a nearly identical bill which was passed in April 2011 by the state legislature.

Brewer claimed in her veto letter that she was worried that the bill empowered Arizona's secretary of state to judge the qualifications of not only President Obama, but all candidates who would file to run for office.

If the bill does not clear the Rules Committee by Monday is could very well die there.

As WND's Jerome Corsi has already reported, there are other states who have mounted similar challenges to the President's claim of eligibility for office, most notably efforts in Georgia.

"There exists virtually no mechanism in the U.S. for investigating whether or not a presidential candidate meets the Constitution's Article 2, Section 1, "natural-born citizen" requirement.

Earlier, New Hampshire became the only state to successfully sign into law a bill clarifying eligibility requirements.

But New Hampshire's H.B. 1245, signed by Democratic Gov. John Lynch, merely requires a statement under penalty of perjury that a candidate meets the qualification requirements of the U.S. Constitution, similar to what the political parties already send to states regarding their candidates."

Whilst still investigating the validity of President Obama's birth certificate, as well as the President's Selective Service Registration card which is also believed to be forged, Sheriff Arpaio still expects to unearth yet more additional new evidence over the coming weeks.

Arpaio adds, "This investigation is not going away. It is an ongoing investigation."

**********
---


Quote of the day: "Whenever you hear the consensus of scientist agrees on something or other, reach for your wallet, because your being had." Micheal Crichton 1942-2008

Info News 2012-03-29 (Full)
On this March,29th, 2012 broadcast of Infowars Nightly News, Paul Joseph Watson speaks with writer Jurriaan Maessen about the Rockefeller's Soft Kill Depopulation Agenda.



The INFOWARS NIGHTLY NEWS airs weeknights at 7 PM CENTRAL. Become a PrisonPlanet.tv subscriber and help support the broadcast as we try to reach a new threshold of audience reach in attempt to warn humanity about this time of great struggle.

**********

---
Alex Jones Live 2012-03-29 (Full)
Alex talks with Rawsome Foods owner James Stewart, who faces multiple felony charges in California for the serious crime of providing people with farm fresh food. Stewart's Rawsome Foods in Venice, California, was raided last year and he was arrested on criminal conspiracy charges stemming from "the alleged illegal production and sale of unpasteurized goat milk, goat cheese and other products." Alex also talks with Mark Anderson of American Free Press and ace journalist and Bilderberg sleuth Jim Tucker. Alex welcomes back to the show Dr. Corey Gold, a former dentist who is a talk show host, nationally recognized speaker and trainer in the entrepreneurial world of network marketing. Alex also covers the latest news and takes your calls.

http://www.infowars.com/
http://www.prisonplanet.tv/
http://twitter.com/#!/RealAlexJones
http://www.facebook.com/AlexanderEmerikJones


Thanks to You Tube Channels Astonisher, ConspiracyScope and NWOTaser

InfoWarsNightlyNews.net is not connected with InfoWars.com except in the necessity to get out the message of liberty and freedom while standing in resistance against the criminal elite who have hijacked the constitution and are attempting to implement draconian world government laws to bring us into slavery 1984 style and beyond. Any comments, questions or copyright issues Email nwotaser@yahoo.com.

**********

---