Obama Second Term Executive Order Will Erase Second Amendment

Tweet
InfoWarsNightlyNews.net - March 19-20, 2012
DW Hall
ProdigyNews.com


Executive Orders are now weapon of choice to by-pass Congress and send a spear into the heart of the Constitution

With the shocking March 16 release and peacetime/non-emergency remake of Obama's signing the Executive Order NDRP (National Defense Resources Preparedness) we are reminded of the horrific pieces of legislation already put in place preceding this dictatorial directive showing the continuity of the cronie establishment that has been hijacked by the banksters who have shipped America's wealth to foreign holdings and are now building a Police/Military perimeter around America using their own people and resources.

The recent NDAA recently passed by the compromised criminals in Congress, along with the 1933 war powers act, the 1947 National Security Act, the now re-designed 1950 NDRP and the 2007 John Warner Defense Authorization Act have all acted towards one final goal of completing the NWO bankster takeover. This was set up to take over third world countries and others while using America as their base of operations. During which time they would be taking over the infrastructure through the bankster fraudulent system otherwise know as the Federal Reserve, they would be dumbing down, drugging, and performing many various forms of Eugenics on the people which can be seen in Alex Jones film EndGame: Blueprint for Global Enslavement.


Most think Martial Law will be some overnight sensational act that happens when you go to bed one night and wake up the next day and there will be troops on every street in every city in America. Nothing could be further from the truth under the globalist conquest scheme that has been designed and continues to be implemented with acceleration. The plan of the Psychopath Establishment has been that of incrementalization, or referred to as the Overton Window in which the control freaks are slowly moving the window of that which the people will accept until eventually the people will buy into anything the NWO throws at them.


Watch this video by Alex Jones explaining what Martial Law is and how it is being carried out:






The criminal powers that have fully hijacked the American people's government/constitution know all to well there is far to much firepower and resistance stored up in the gun-lockers of the homes of those who still understand liberty and freedom and are willing to risk all. The criminal minions like now Attorney General Eric Holder was found in a recent video release to have announced his desire to "brainwash" the "youngstas" into believing guns are bad and to turn in anyone (including their parents you can bet) to the "authorities".


See the Alex Jones Video Compilation of both Holder and Obama with their plans to lock down America:





This stealth but steady process in which it is being carried out through acts of Congress and Executive Orders paving the way for a complete globalist takeover must force anyone with half a live brain cell to realize time has not been a factor .... until NOW.


With a recent announcement by an NRA top official stating that President Obama will move to "destroy" gun rights and "erase" the Second Amendment in his second term as he has placated and given lip service to gun owners during his first terms but plans the final Coup d'etat on the second amendment of the next term. Undoubtedly he will use a false-flag of some sort after failing with the 'Fast and Furious', coupled with an Executive Order fully by-passing the Congress. Because of this awakening to this criminal order, time is now of the utmost importance to the NWO overlords to initiate immediately their complete and final plans of takeover.


In order to carry out the immediacy of this Orwellian scam, the control freak establishment has now put into place through the Republican crony establishment a blockade of effectively preventing Ron Paul from being placed in the headlines of winning even one state. Though there was clearly election fraud committed in numerous states as detailed at length on Infowars.com, the slave stream media continues to report nothing to see here, move along.


This deceptive fraud now being carried out against the American People is so in your face that it appears they have thrown any caution to the wind. These fraudsters know there time is short and they intend on putting up one last great hurrah to finish off the republic/constitution.


In case the weasly wing righters think that back-up puppet Romney or the 'christian-wing' Santorium (name intentionally misspelled in remembrance of his defense of cancer causing vaccines) you will likely be that much more sorrowful day after elections because you did not stand up for Liberty. The banksters are going to pull the plug on the Crony Republican Candidate and from that point you can put together the pieces as to what will take place thereafter. It is not going to be pretty.


***********
DW Hall is Editor and Writer for ProdigyNews.com


**********


---
Kurt Nimmo
Infowars.com
March 19, 2012

On Friday, March 16, Obama issued another unconstitutional executive order. The National Defense Resources Preparedness EO allows the government to confiscate your property without due process under the direction of Janet Napolitano and the Department of Homeland Security.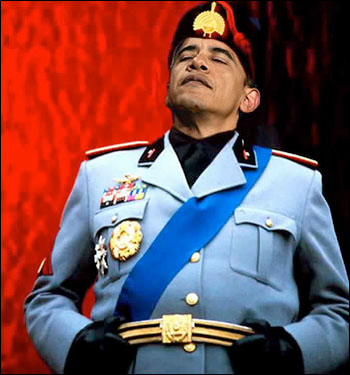 Obama Il Duce: Executive order permits government and corporations to steal private property.

Obama's EO allows the president to "take actions necessary to ensure the availability of adequate resources and production capability, including services and critical technology, for national defense requirements" in the event of a "potential threat to the security of the United States."

Obama's latest EO demonstrates once again that the executive will continue to violate the Constitution, in particular Article I, Section 1, which states: "All legislative Powers herein granted shall be vested in a Congress of the United States, which shall consist of a Senate and House of Representatives."

Any enactment of law by the executive is made in Excess of Jurisdiction and is by definition treason.

Fascist Executive Orders

Obama's latest EO underscores and reemphasizes Bill Clinton's EO 12919, signed on June 6, 1994.

Clinton's 12919 followed a number of earlier executive orders allowing the government to steal your property – and also force you to be a slave laborer – during a vaguely declared "national emergency." The government has given itself the authority to seize all communication (from television stations to CB radios), confiscate all food resources (including farms and farm equipment), take control of all transportation (including your family car), and compel you at gunpoint "under federal supervision" to work as a slave.

National Defense Resources Preparedness is a textbook example of fascism. It allows the government to steal privately owned property and publicly owned infrastructure and hand it over to its preferred corporate partners under the guise of a national emergency: "(b) provide for the modification or expansion of privately owned facilities, including the modification or improvement of production processes, when taking actions under sections 301, 302, or 303 of the Act, 50 U.S.C. App. 2091, 2092, 2093; and (c) sell or otherwise transfer equipment owned by the Federal Government and installed under section 303(e) of the Act, 50 U.S.C. App. 2093(e), to the owners of such plants, factories, or other industrial facilities."

Fascist philosopher and Italian dictator Benito Mussolini used his principle of a "nation in arms" to steal private property from citizens. Obama's latest EO declares the right to do the same. Mussolini devised fascist corporatism – the philosophy of the "corporative state" – and Obama under the direction of his Goldman Sachs and transnational corporate and bankster controllers has updated this corporate-statist doctrine, including the ability to steal privately earned and held wealth under the pretense of a national emergency.

Martial Law

Previous administrations installed the groundwork for Obama's authoritarian move. Under Reagan, executive agencies were granted sweeping emergency powers to not only grab infrastructure and private property, but also round up citizens and put them in concentration camps and force them into slave labor brigades.

During the Iran-Contra hearings in 1987, it was revealed that the program was a secretive "scenario and drill" developed by the federal government to suspend the Constitution, declare martial law, assign military commanders to take over state and local governments, and detain large numbers of American citizens determined by the government to be "national security threats."

Obama's NDAA was established to provide the legal mechanism for tasking the military to round up activists and others targeted by the government. Prior to the NDAA, the Patriot Act, the Military Commissions Act and other related programs, the government devised Rex 84 and in particular Operation Garden Plot, an operational plan to use the Army, USAF, Navy, and Marine Corp. in direct support of civil disturbance control operations. It has since added numerous elements under the rubric of Continuity of Government, the overall war on terror, civil disturbance and emergency response.


With the scantily covered National Emergency Centers Establishment Act, the Military Commissions Act, and the recent NDAA sailing through Congress, and a raft of lesser legislation and unconstitutional directives, we are beginning to see the contours of the police state.

Corporate Media Ignores National Defense Resources Preparedness

A Google News search produces virtually no mention of Obama's latest assault on the Constitution from the establishment media. The alternative media began covering the latest Obama executive order from the moment it was posted on the White House website on Friday, but the corporate media remains silent.

Obama's EO should be headline news. It is a direct assault on the Constitution and further empowers an executive branch dictatorship and allows it to exploit a "full spectrum of emergencies" and permits it to confiscate private property and turn citizens into slaves.

As John Adams noted, the very basis of the Constitution rests on the concept of private property. "The moment the idea is admitted into society that property is not as sacred as the laws of God," Adams wrote, "anarchy and tyranny commence. Property must be secured or liberty cannot exist."


**********
---
RT
March 20, 2012
Presidential hopeful Ron Paul has publically attacked the Obama administration's abolishment of due process in a new editorial, calling the move a turning point in American history.
Responding to Attorney General Eric Holder's recent justification for the extrajudicial killings of three American citizens on foreign soil, Republican Party candidate Ron Paul has penned a scathing op-ed condemning the White House for circumventing the US Constitution. Earlier this month Holder spoke at Chicago's Northwestern Law School to discuss last year's execution of alleged terrorist Anwar al-Awlaki and two other US-born clerics in Yemen, a decision he says the White House still defends despite criticism from citizens and lawmakers alike.
Although both US President Barack Obama and the CIA signed off on the airstrike that killed the American citizens, Washington has been relatively quiet on the matter until Holder spoke earlier this month.
After Attorney General Holder justified the assassination of Americans, a congressional inquiry revealed that Robert Mueller, director of the Federal Bureau of Investigation, wasn't certain that the same laws could be applied to killing Americans on US soil. With the FBI and Oval Office both hiding behind vague verbiage to allow the assassination of their own citizens, Ron Paul is critiquing what he calls a complete disregard of the Constitution.
"It is particularly bizarre to hear the logic of the administration claiming the right to target its citizens according to some secret selection process, when we justified our attacks against Iraq and Libya because their leaders supposedly were targeting their own citizens," writes Rep. Paul. "We also now plan a covert war against Syria for the same reason."
The congressman adds in his explanation that he is all for justice brought on those that threaten America or its people, but that the US Department of Justice has — and should continue — to view these issues on a case-by-case basis. On the contrary, argues Paul, it seems as if the president puts himself above all other branches of the federal government, essentially eliminating the system of checks and balances constructed by America's forefathers.

Holder, says Paul, "tells us that this is not a violation of the due process requirements of our Constitution because the President himself embodies 'due process' as he unilaterally determines who is to be targeted. As Holder said, 'a careful and thorough executive branch review of the facts in a case amounts to "due process."' That means that the administration believes it is the President himself who is to be the judge, jury and executioner."
"Our civilian court system, with the guarantee of real due process, judicial review, and a fair trial, is our strength, not a weakness," writes Rep. Paul. "It is not an impediment to be sidestepped in the push for convictions or assassinations, but rather a process that guarantees that fundamental right to be considered innocent until proven guilty in a court of law."
After the CIA ordered and executed a "targeted kill" on Awlaki and alleged al-Qaeda operative Samir Khan last year, Ron Paul responded the same day to condemn the assassinations. "Nobody knows if he ever killed anybody," Paul said at time. "If the American people accept this blindly and casually…I think that's sad."

Now that the US has formally acknowledged that it stands by the killing months later, the congressman seems to be even more concerned with the turn America is taking, describing Holder's explanation as something "history likely will record as a turning point."
**********
---

3-19-2012: Aaron Dykes Previews Nightly News of Russell Means Interview



**********
3-20-2012: Aaron Dykes Previews Nightly News of Global Warming

**********
The INFOWARS NIGHTLY NEWS airs weeknights at 7 PM CENTRAL. Become a PrisonPlanet.tv subscriber and help support the broadcast as we try to reach a new threshold of audience reach in attempt to warn humanity about this time of great struggle.
**********
---
Alex Jones Live 2012-03-19 (Full)
On the Monday, March 19 edition of the Alex Jones Show, Alex talks with former comedian, activist, social critic, writer, and entrepreneur Dick Gregory. On Friday, Mr. Gregory was arrested along with actor George Clooney, his father and others outside the Sudanese embassy. Gregory and Clooney were protesting against the Sudanese government of Omar al-Bashir and its efforts to block food and aid from entering the Nuba Mountains in the county's border region with South Sudan. Alex also talks about the latest on Obama's unconstitutional National Defense Resources Preparedness executive order and how the corporate media ignored statement paves the way for martial law. Alex also covers the latest news and takes your calls.

http://www.dickgregory.com/




**********

Alex Jones Live 2012-03-20 (Full)
Journalist and author Jon Rappoport mans the Austin command center today, Tuesday, March 20. Rappoport has written about the globalist cartel, medical fraud, deep politics, and health issues. He is the author of several books, including: The Secret Behind Secret Societies : Liberation of the Planet in the 21st Century and Oklahoma City Bombing: The Suppressed Truth. Rappoport is presently vice-president of the publishing house Truth Seeker Company, Inc. Jon talks with Harvard-trained psychiatrist Peter R. Breggin, who is known as "The Conscience of Psychiatry" for his efforts to reform the mental health field, and also covers the latest news and takes calls from listeners. Mike Adams "The Health Ranger" pops in using Skype and talks with Jon about latest news and how certain new governmental policies are destroying personal freedom.





**********


Thanks to You Tube Channels Astonisher, ConspiracyScope and NWOTaser

InfoWarsNightlyNews.net is not connected with InfoWars.com except in the necessity to get this message out. Some countries or individual servers may be blocking InfoWars Sites but not this one. You can find all the days articles and videos here at InfowarNightlyNews.net should there be a block elsewhere. We credit them with the info on this site and repost all here because of their desires as well as our desires for freedom and liberty. Any comments, questions or copyright issues Email nwotaser@yahoo.com
**********
---