America's Red Dawn: UN Agenda 21 - Rosa Koire

InfoWarsNightlyNews.net - February 11-12, 2012

On this Live Sunday edition, Alex is joined by author and top researcher on the UN's Agenda 21, Rosa Koire, a veritable expert on the creeping takeover of cities and states under the paralyzing guise of the buzzword "sustainability." Koire's book, BEHIND THE GREEN MASK: U.N. Agenda 21, not only deconstructs the agenda's aims with solid facts, but is designed for use as a study guide and starting point for developing a strategy to defeat its effects in your area. Rosa Korie is Executive Director of the Post Sustainability Institute, where she studies the impacts of Agenda 21/Sustainable Development on liberty, and also runs the website Democrats Against UN Agenda 21.
In the news, Alex tackles the tragic early death of singer Whitney Houston, and exposes the reality that prescription drugs are posing a greater danger to society than illegals drugs and many other public ills. Also, plans to release GMO mosquitoes in Florida to combat native populations mark a new beginning of actively releasing dangerously under-tested new species into the wild-- with possible ramifications and consequences unknown. On the geo-political front, calls for the United Nations to put peacekeepers on the ground in Syria further escalate the possibilities for regional war, while Ron Paul supporters have cried foul over the Maine caucuses, where "official" results in the delegate-driven straw polls appeared to present Mitt Romney with a narrow win over Dr. Paul. Your calls are welcome.
Democrats for UN Agenda 21 Resistance Sites

Alex Jones Live Sunday 2012-2-12 (Full)
Thanks to You Tube Channels Astonisher, ConspiracyScope and NWOTaser
InfoWarsNightlyNews.net is not connected with InfoWars.com except in the necessity to get this message out. Some countries or individual servers may be blocking InfoWars Sites but not this one. You can find all the days articles and videos here at InfowarNightlyNews.net should there be a block elsewhere. We credit them with the info on this site and repost all here because of their desires as well as our desires for freedom and liberty. Any comments or questions Email nwotaser@yahoo.com.

---
SOUNDS LIKE SCIENCE FICTION...OR SOME CONSPIRACY THEORY...BUT IT ISN'T
Democrats for Agenda 21

Have you wondered where these terms 'sustainability' and 'smart growth' and 'high density urban mixed use development' came from? Doesn't it seem like about 10 years ago you'd never heard of them and now everything seems to include these concepts? Is that just a coincidence? That every town and county and state and nation in the world would be changing their land use/planning codes and government policies to align themselves with...what?

First, before I get going, I want to say that yes, I know it's a small world and it takes a village and we're all one planet etc. I also know that we have a democracy and that as cumbersome as that can be sometimes (Donald Rumsfeld said that the Chinese have it easy; they don't have to ask their people if they agree. And Bush Junior said that it would be great to have a dictator as long as he was the dictator), we have a three branch government and the Bill of Rights, Constitution, and self-determination. This is one of the reasons why people want to come to the US, right? We don't have Tiananmen Square here, generally speaking (yes, I remember Kent State--not the same, and yes, an outrage.) So I'm not against making certain issues a priority, such as mindful energy use, alternative energy sponsorship, recycling/reuse, and sensitivity to all living creatures.

But then you have UN Agenda 21. What is it? See our videos and radio shows at the bottom of this page (or search YouTube for Rosa Koire) or buy BEHIND THE GREEN MASK: U.N. Agenda 21 by Rosa Koire


Considering its policies are woven into all the General Plans of the cities and counties, it's important for people to know where these policies are coming from. While many people support the United Nations for its peacemaking efforts, hardly anyone knows that they have very specific land use policies that they would like to see implemented in every city, county, state and nation. The specific plan is called United Nations Agenda 21 Sustainable Development, which has its basis in Communitarianism. By now, most Americans have heard of sustainable development but are largely unaware of Agenda 21.

In a nutshell, the plan calls for governments to take control of all land use and not leave any of the decision making in the hands of private property owners. It is assumed that people are not good stewards of their land and the government will do a better job if they are in control. Individual rights in general are to give way to the needs of communities as determined by the governing body. Moreover, people should be rounded up off the land and packed into human settlements, or islands of human habitation, close to employment centers and transportation. Another program, called the Wildlands Project spells out how most of the land is to be set aside for non-humans.

U.N. Agenda 21 cites the affluence of Americans as being a major problem which needs to be corrected. It calls for lowering the standard of living for Americans so that the people in poorer countries will have more, a redistribution of wealth. Although people around the world aspire to achieve the levels of prosperity we have in our country, and will risk their lives to get here, Americans are cast in a very negative light and need to be taken down to a condition closer to average in the world. Only then, they say, will there be social justice which is a cornerstone of the U.N. Agenda 21 plan.

Agenda 21 policies date back to the 70's but it got its real start in 1992 at the Earth Summit in Rio de Janeiro when President Bush signed onto it. President Clinton signed it later and continued the program in the United States. A non-governmental organization called the International Council of Local Environmental Initiatives, ICLEI, is tasked with carrying out the goals of Agenda 21. Over 600 cities in the U.S. are members; our town joined in 2007. The costs are paid by taxpayers.

It's time that people educate themselves and read the document and related commentary. After that, get a copy of your city or county's General Plan and read it. You will find all sorts of policies that are nearly identical to those in U.N. Agenda 21. Unfortunately, their policies have advanced largely unnoticed and we are now in the end game. People need to identify their elected officials who are promoting the U.N.'s policies and hold them accountable for their actions. Only when we've identified who the people are and what they are trying to do will we be able to evaluate whether or not we approve of the policies they are putting forward. Some people may think it's appropriate for agencies outside the United States to set our policies and some people will not. The question is, aren't Americans able to develop their own policies? Should we rely on an organization that consists of member nations that have different forms of governments, most of which do not value individual rights as much as we do? It's time to bring U.N. Agenda 21 out in the open where we can have these debates and then set our own policies in accordance with our Constitution and Bill of Rights.
***

Ok, you say, interesting, but I don't see how that really affects me. Here are a few ways:

No matter where you live, I'll bet that there have been hundreds of condos built in the center of your town recently. Over the last ten years there has been a 'planning revolution' across the US. Your commercial, industrial, and multi-residential land was rezoned to 'mixed use.' Nearly everything that got approvals for development was designed the same way: ground floor retail with two stories of residential above. Mixed use. Very hard to finance for construction, and very hard to manage since it has to have a high density of people in order to justify the retail. A lot of it is empty and most of the ground floor retail is empty too. High bankruptcy rate.

So what? Most of your towns provided funding and/or infrastructure development for these private projects. They used Redevelopment Agency funds. Your money. Specifically, your property taxes. Notice how there's very little money in your General Funds now, and most of that is going to pay Police and Fire? Your street lights are off, your parks are shaggy, your roads are pot-holed, your hospitals are closing. The money that should be used for these things is diverted into the Redevelopment Agency. It's the only agency in government that can float a bond without a vote of the people. And they did that, and now you're paying off those bonds for the next 45 years with your property taxes. Did you know that?

So, what does this have to do with Agenda 21?

Redevelopment is a tool used to further the Agenda 21 vision of remaking America's cities. With redevelopment, cities have the right to take property by eminent domain---against the will of the property owner, and give it or sell it to a private developer. By declaring an area of town 'blighted' (and in some cities over 90% of the city area has been declared blighted) the property taxes in that area can be diverted away from the General Fund. This constriction of available funds is impoverishing the cities, forcing them to offer less and less services, and reducing your standard of living. They'll be telling you that it's better, however, since they've put in nice street lights and colored paving. The money gets redirected into the Redevelopment Agency and handed out to favored developers building low income housing and mixed use. Smart Growth. Cities have had thousands of condos built in the redevelopment areas and are telling you that you are terrible for wanting your own yard, for wanting privacy, for not wanting to be dictated to by a Condo Homeowner's Association Board, for being anti-social, for not going along to get along, for not moving into a cramped apartment downtown where they can use your property taxes for paying off that huge bond debt. But it's not working, and you don't want to move in there. So they have to make you. Read on.

Human habitation, as it is referred to now, is restricted to lands within the Urban Growth Boundaries of the city. Only certain building designs are permitted. Rural property is more and more restricted in what uses can be on it. Although counties say that they support agricultural uses, eating locally produced food, farmer's markets, etc, in fact there are so many regulations restricting water and land use (there are scenic corridors, inland rural corridors, baylands corridors, area plans, specific plans, redevelopment plans, huge fees, fines) that farmers are losing their lands altogether. County roads are not being paved. The push is for people to get off of the land, become more dependent, come into the cities. To get out of the suburbs and into the cities. Out of their private homes and into condos. Out of their private cars and onto their bikes.

Bikes. What does that have to do with it? I like to ride my bike and so do you. So what? Bicycle advocacy groups are very powerful now. Advocacy. A fancy word for lobbying, influencing, and maybe strong-arming the public and politicians. What's the conection with bike groups? National groups such as Complete Streets, Thunderhead Alliance, and others, have training programs teaching their members how to pressure for redevelopment, and training candidates for office. It's not just about bike lanes, it's about remaking cities and rural areas to the 'sustainable model'. High density urban development without parking for cars is the goal. This means that whole towns need to be demolished and rebuilt in the image of sustainable development. Bike groups are being used as the 'shock troops' for this plan.

What plan? We're losing our homes since this recession/depression began, and many of us could never afford those homes to begin with. We got cheap money, used whatever we had to squeak into those homes, and now some of us lost them. We were lured, indebted, and sunk. Whole neighborhoods are empty in some places. Some are being bulldozed. Cities cannot afford to extend services outside of their core areas. Slowly, people will not be able to afford single family homes. Will not be able to afford private cars. Will be more dependent. More restricted. More easily watched and monitored.

This plan is a whole life plan. It involves the educational system, the energy market, the transportation system, the governmental system, the health care system, food production, and more. The plan is to restrict your choices, limit your funds, narrow your freedoms, and take away your voice. One of the ways is by using the Delphi Technique to 'manufacture consensus.' Another is to infiltrate community groups or actually start neighborhood associations with hand-picked 'leaders'. Another is to groom and train future candidates for local offices. Another is to sponsor non-governmental groups that go into schools and train children. Another is to offer federal and private grants and funding for city programs that further the agenda. Another is to educate a new generation of land use planners to require New Urbanism. Another is to convert factories to other uses, introduce energy measures that penalize manufacturing, and set energy consumption goals to pre-1985 levels. Another is to allow unregulated immigration in order to lower standards of living and drain local resources.

All of this sounds unbelievable until you have had direct experience with it. You probably have, but unless you resisted it you won't know it's happening. That's why we'd like you to read our blog 'The Way We See It' (click here). Go to the section in the blog (look on the right side under Categories) called Our Story. You'll get a look at how two unsuspecting people fell into a snake pit and survived to tell about it.

---
Jurriaan Maessen
Infowars.com
February 11, 2012
In its 1984 World Development Report, the World Bank suggests using "sterilization vans" and "camps" to facilitate its sterilization policies for the third world. The report also threatens nations who are slow in implementing the bank's population policies with "drastic steps, less compatible with individual choice and freedom."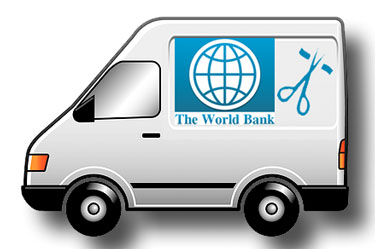 The report, literally saturated with dehumanizing proposals, is devoted entirely to the World Bank's long-term strategies in regards to population control and does not shy away from proposing the most draconian methods in order to depopulate the planet:
"Male and female sterilization and IUDs can be made more readily available through mobile facilities (such as sterilization vans in Thailand) or periodic "camps" (such as vasectomy and tubectomy-camps in India and IUD "safaris" in Indonesia)."
To illustrate how serious the World Bank is in achieving the overall strategy objectives on population control, the report makes use of outright threats:
"Population policy has a long lead time; other development policies must adapt in the meantime. Inaction today forecloses options tomorrow, in overall development strategy and in future population policy. Worst of all, inaction today could mean that more drastic steps, less compatible with individual choice and freedom, will seem necessary tomorrow to slow population growth."
In the preface, then President of the World Bank and 1985 Bilderberg attendee, A.W. Clausen stated:
"(…) although the direct costs of The World Bank programs to reduce population growth are not large, a greater commitment by the international community is sorely needed to assist developing countries in the great challenge of slowing population growth."
"(…) governments can use incentives and disincentives to signal their policy on family size", the report continues. "Through incentives, society as a whole compensates those couples willing to forgo the private benefits of an additional child, helping to close the gap between private and social gains to high fertility."
To give an adequate illustration of the World Bank's preference for all-out government control over the people, and their intent on meddling in people's personal decisions, the following quote will suffice (page 107):
"By taxing and spending in ways that provide couples with specific incentives and disincentives to limit their fertility, government policy can also affect fertility in the short run. Government can offer "rewards" for women who defer pregnancy; it can compensate people who undergo sterilization for loss of work and travel costs; and it can provide insurance and old-age security schemes for parents who restrict the size of their families. Each of these public policies works through signals which influence individual and family decisions- when to marry, whether to use contraception, how long to send children to school, and life expectancy, and whether and how much family members work."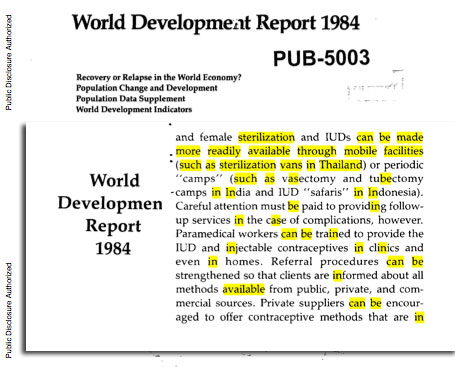 Under the header "Incentives and disincentives" (page 121), the World Bank proposes several more examples of government interference in the affairs of free humanity:
"To complement family planning services and social programs that help to reduce fertility, governments may want to consider financial and other incentives and disincentives as additional ways of encouraging parents to have fewer children. Incentives may be defined as payments given to an individual, couple, or group to delay or limit child-bearing or to use contraceptives. (…). Disincentives are the withholding of social benefits from those whose family size exceeds a desired norm."
The report uses the example of China to make clear such measures can be highly successful if governments would only be willing to implement them:
"With the possible exception of China, efforts to raise the age at marriage by persuasion and edict have not been particularly successful."
"In China the birth rate at the end of 1982 was estimated to be nineteen per 1,000 people, down from forty in the 1960s. The current figure, based on birth registrations rather than on a census, may slightly understate the actual birth rate; but it would still be well below current rates in South Asia, Africa, and most of Latin America."
On page 124, the World Bank report further marvels at the Chinese government's accomplishments:
"China has the most comprehensive set of incentives and disincentives, designed (most recently) to promote the one-child family. Since the early 1970s women undergoing various types of fertility-related operations have been entitled to paid leave: in urban areas fourteen days for induced abortion; ten days for tubal ligation; two to three days for insertion or removal of an IUD; and in the case of postnatal sterilization, seven extra days over the normal fifty-six of paid maternity leave."
Making clear that the overall World Bank population reduction strategy must be implemented in a country-specific manner, the report states:
"The specific policy agenda for each country depends on its political culture, on the nature of the problem it faces, and on what it has already accomplished."
What does have to be global, according to the World Bank, is continuing urbanization: people nicely locked up in massive townships. The report explains:
"Living in small towns does less to reduce fertility than does living in larger cities. That many of these changes take time to have an effect only underlines the need to begin them now. At the same time, other measures that complement and speed socioeconomic change can hasten a decline in fertility."
This report is completely in step with the strategies outlined by the UN, the Rockefeller Foundation, Ford Foundation, World Health Organization and IMF as they move to depopulate the earth in a consorted global effort. The pretexts for fertility reduction given throughout the report are "sustainable development" and "poverty reduction". The truth is, so states the World Bank itself, to introduce and further develop "policy measures to increase people's welfare as well as (and as a means) to reduce fertility."

---
Dr. Mercola
February 12, 2012
Agent Orange, produced by both Monsanto and Dow Chemicals, was used to defoliate jungles during the Vietnam War.
During that time, millions of gallons of the toxic chemical mixture were sprayed on trees and vegetation, and the aftermath left hundreds of thousands of Vietnamese sick, with countless numbers of their children suffering birth defects, and a still growing group of U.S. veterans with related diseases ranging from cancer to Parkinson's disease.


Agent Orange was a horrific chemical concoction that never should have been used, and if you want to see some of its effects on children who were exposed in the womb, you can do so here — but I warn you the photos are very graphic and upsetting.
Agent Orange is no longer produced — so why am I bringing it up now?
Because Dow AgroSciences (a subsidiary of Dow Chemicals), who was one of the original manufacturers of Agent Orange (AO), has developed a new generation of genetically modified (GM) crops — soybeans, corn and cotton — that are designed to resist a major ingredient in AO: the herbicide called 2,4-Dichlorophenoxyacetic acid (2,4-D).
The use of 2,4-D, however, is not new, as it is actually one of the most widely used herbicides in the world.

What is new – and disturbingly so – is that now that staple crops like soy and corn have been engineered to be resistant to 2,4-D, it may soon be applied to U.S. arable land on an unprecedented scale — not unlike its indiscriminate application during Vietnam.
The whole point of engineering resistance to an herbicide within a GMO plant, of course, is so that you can "carpet bomb" an entire field, leaving only your "Frankenfoods" standing, without having to exert even a fraction of the effort required raise crops organically and sustainably.
In fact, if 2,4-D resistant crops receive approval and eventually come to replace Monsanto's failing Roundup-resistant crops as Dow intends, it is likely that billions of pounds will be needed, on top of the already insane levels of Roundup now being used (1.6 billion lbs were used in 2007 in the US alone!).
---
Ethan A. Huff
Natural News
February 11, 2012
(NaturalNews) After repeated visits to his farm throughout 2009 and 2010 that resulted in an unprovoked quarantine, state and county officials in Wisconsin have charged Amish farmer Vernon Hershberger with violating state retail food laws by distributing raw milk to cow owners. Hershberger was recently released from illegal captivity on $500 bond, but will soon face the court system again for criminal charges that could result in a two-and-a-half year prison sentence and more than $13,000 in fines if he is convicted.
The Rock River Times (RRT) reports that Hershberger told Sauk County, Wisc., judge James Evenson on Jan. 11, 2012, at his initial hearing that he has done nothing wrong by providing raw milk to members of his buying club. Previously providing raw milk incidentally to customers from his farm was also in accordance with state laws, even though these laws have since become more restrictive.
"There is no proof of validity to the complaint so far," Hershberger is quoted as saying to Judge Evenson, while dozens of his supporters stood outside the courthouse drinking raw milk from jugs in protest of illegal and excessive treatment of the farmer.
Hershberger is so confident of his innocence in the case that he reportedly came to the hearing without an attorney. However, an attorney has reportedly offered to represent Hershberger for free, and even file a follow-up lawsuit against the state on behalf of the farmer and seven plaintiffs, which are still being sought.
State of Wisconsin illegally interfered with private distribution of owners' own food, committed racketeering fraud
"Vernon Hershberger is privately contracted with Right to Choose Healthy Food (RTCHF) members to board, and produce health-giving organic food from member animals for consumption," wrote Hershberger's co-op in response to the charges.

"The State of Wisconsin tried to close his farm in 2010 and recently filed multiple charges against him for operating a retail store and dairy without licenses and defying WDA (Wisconsin Dairy Association) orders to not distribute members products to them. This is not only a violation of our civil rights, it is a moral assault on our health and well-being."
Rather than consider the facts, though, Judge Evenson proceeded to book Hershberger on $500 bond and order that he be detained. Hershberger has since been bailed out, but will now still have to face the courts on Feb. 13, 2012. His pre-trial conference with prosecutors is set for Jan. 30, 2012.
The state claims that its issue with Hershberger involves his not having the proper permits, and failing to abide by the heath department's restrictions on his farm's production back in 2010. But there exist no permits in Wisconsin for selling or otherwise distributing raw milk, and the state needlessly interfered with private distribution of the owners own food, which is considered racketeering.
"Since no food is sold or distributed to the public and is only distributed to members who own the food, there is no crime," added the co-op's response. "The only affront is that Wisconsin does not get its licensing fees and food-control that forces money from small farmers that the state does not earn or deserve. That constitutes state racketeering. Since all RTCHF members are part owners of the farm assets, every member's address is the farm's address."
Sources for this article include:
---