Christians Worship Satan at Madonna's "Luciferian NWO Extravaganza"

InfoWarsNightlyNews.net - February 6-7, 2012

PrisonPlanet.tv

Tonight on the Friday, February 6, 2012 edition of the Infowars Nightly News:

Madonna's New World Order Extravaganza at the Super Bowl
Kurt Nimmo
Infowars.com
February 6, 2012
On the Monday, February 6 edition of Infowars Nightly News, co-host Aaron Dykes interviews Rev. Clenard Childress of Blackgenocide.com, a website that uncovers the orchestrated holocaust of abortion and the attack centered on the family unit.
Co-host Paul Joseph Watson runs through the news, including:
Madonna's Egyptian mystery religion performance at the Super Bowl paying tribute to her master, the New World Order.
Ron Paul's latest Straight Talk article on the danger of a Federal Reserve controlled and unconstitutional "consumer protection" agency.
How Mexico's presidential race will impact the so-called drug war raging in the country. The front-runner, Enrique Pena Nieto, represents a political party that has worked with the cartels and allowed it semiautonomous control of certain regions.
Bill Gates throwing his billions into high-risk geoengineering projects that purport to offer a solution to global warming yet have been savaged by environmentalists as potentially posing a greater threat than climate change itself.
Coverage of a New York Times propaganda piece that snidely slams Tea Party activists for their opposition to "green projects" and the United Nations' Agenda 21.
A Senate vote today on legislation that would allow U.S. airports to replace TSA workers with screeners from private companies, a move that could spell the beginning of the end for the highly unpopular federal agency's role in airport security.
Monarch Mind Control Victim Sharon Tate in Egyptian Pose

Paul Joseph Watson: Madonna's Super-NWO Baphomet 4-minute video
---
History of the Baphomet

Text Below From the Satanic-Kindred Website


Baphomet, the symbol of the satanic goat, usually portrayed as a half human, half goat figure, or a goat head. It is often misinterpreted as a symbol of witch-craft in general. It is used by Satanists, but is not used by neo-pagan witches who do not worship the devil.


The origin of the Baphomet is unclear. It may be a corruption of Muhomet (Mohammed). The english witchcraft historian Montague Summers suggested that it was a combination of two greek words, baphe and metis, meaning "absorption of knowledge." Baphomet has also been called the Goat of Mendes, The Black Goat and the Judas Goat.

In the middle ages the Baphomet was believed to be an idol, represented by a human skull, a stuffed humans head or a metal or wooden human head with curly black hair.
The idol was said to be worshipped by the Order of Knights Templar as the source of fertility and wealth. In 1307 King Phillip IV of France accused the Order of the Knights Templar of heresy, homosexuality and among other things, worshipping this idol and anointing it with the fat of murdered children. However, only 12 of the 231 knights interrogated by the church admitted worshipping or having knowledge of the Baphomet. Novices said they had been instructed to worship the idol as their god and savior, and their descriptions of it varied: it had up to three heards and up to four feet; it was made of either wood or metal, or was a painting, sometimes it was a gift.

In 1818 a number of idols called heads of Baphomet were discovered among forgotten antiquities of the imperial museum of Vienna. They were said to be replicas of the Gnostic divinity, Mete, or "Wisdom."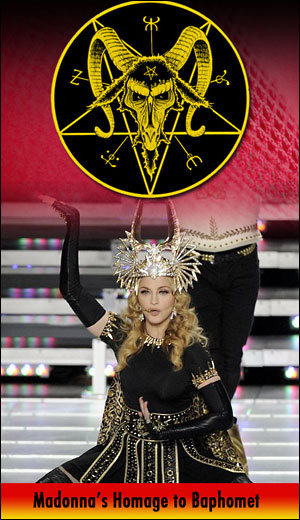 Perhaps the best-known representation of Baphomet is the drawing by the 19th century French magician, Eliphas Levi, called "The Baphomet of Mendes." Levi combined elements of the tarot devil card and the he-goat worshipped in antiquity in Mendes, Egypt, which was said to fornicate with its women followers ( as the church claimed the devil did with witches). Levi's Baphomet has a human trunk with rounded, female breasts, a caduceus in the midriff, human arms and hands, cloven feet, wings and a goat's head with a pentagram in the forehead and a torch on top of the skull between the horns. The attributes, Levi said, represented the sum total of the universe - intelligence, the four elements, divine revelation, sex and motherhood and sin and redemption. Hite and black crescent moons at the figure's side represent good and evil.

Aleister Crowley named himself Baphomet when he joined the Ordo Templis Orientalis, a secret sexual magic order formed around 1896 in Germany

The Church of Satan, founded in 1966 in San Francisco, adopted another rendition of baphomet to symbolize Satanism. The symbol is a goats head drawn within an inverted pentacle, enclosed in a outer circle, hebraic figures at each point in the pentagram spell ot leviathan, a huge water serpent associated with the devil. In Church of Satan rituals, the sigil of Baphomet is hung on the wall behind the alter. The Baphomet may also be worn as a medallion.
---
InfoWars Nightly News Monday 2012-02-06 (Full)
The INFOWARS NIGHTLY NEWS airs weeknights at 7 PM CENTRAL. Become a PrisonPlanet.tv subscriber and help support the broadcast as we try to reach a new threshold of audience reach in attempt to warn humanity about this time of great struggle.
---
Alex talks with environmentalist, bestselling author, and MIT trained engineer Matt Stein, who will talk about his article, 400 Chernobyls: Solar Flares, EMP, and Nuclear Armageddon. Stein's latest book is When Technology Fails. Alex also welcomes to the show Lawrence Lessig, the Director of the Edmond J. Safra Foundation Center for Ethics at Harvard University, and a Professor of Law at Harvard Law School. Lessig will talk about recent internet legislation and his latest book on corruption in Congress. He is the author several books, including Free Culture: How Big Media Uses Technology and the Law to Lock Down Culture and Control Creativity, Code 2.0, and his latest, Republic, Lost: How Money Corrupts Congress--and a Plan to Stop It. Alex also covers the latest news and takes your calls.
Matt Stein: 400 Chernobyls, Solar Flares, EMP & Nuclear Armageddon

Infowars.com
February 7, 2012
Alex talks with environmentalist, bestselling author, and MIT trained engineer Matt Stein, who will talk about his article, 400 Chernobyls: Solar Flares, EMP, and Nuclear Armageddon. Stein's latest book is When Technology Fails.
Alex Jones Live Monday 2012-02-06 (Full)
Thanks to You Tube Channels Astonisher, ConspiracyScope and NWOTaser
InfoWarsNightlyNews.net is not connected with InfoWars.com except in the necessity to get this message out. Some countries or individual servers may be blocking InfoWars Sites but not this one. You can find all the days articles and videos here at InfowarNightlyNews.net should there be a block elsewhere. We credit them with the info on this site and repost all here because of their desires as well as our desires for freedom and liberty. Any comments, questions or copyright issues Email nwotaser@yahoo.com.

---
Billionaire funds projects aimed at injecting upper atmosphere with sulphur particles
Paul Joseph Watson
Infowars.com
Monday, February 6, 2012
Microsoft founder Bill Gates continues to pour millions of dollars into high-risk geoengineering projects that purport to offer a solution to global warming yet have been savaged by environmentalists as potentially posing a greater threat than climate change itself.
"Concern is now growing that the small but influential group of scientists, and their backers, may have a disproportionate effect on major decisions about geoengineering research and policy," reports the London Guardian, quoting critics who allege that Gates' funding has enabled geoengineering advocates to "dominate the deliberations of the UN's Intergovernmental Panel on Climate Change."
In 2010, Gates was criticized for ploughing $300,000 dollars into a sea trial of cloud-whitening technology which involved spraying clouds with microscopic particles in an effort to make them reflect more sunlight, an experiment dubbed "dangerous" by environmental campaigners.
The report reveals that Gates has backed Professors David Keith, of Harvard University, and Ken Caldeira of Stanford, to the tune of $4.6 million dollars to fund studies based around the premise of injecting sulphur particles into the upper atmosphere designed to reflect sunlight.
As we have previously documented, experiments similar to Caldeira's proposal are already being carried out by U.S. government -backed scientists, such as those at the U.S. Department of Energy's (DOE) Savannah River National Laboratory in Aiken, S.C, who in 2009 began conducting studies which involved shooting huge amounts of particulate matter, in this case "porous-walled glass microspheres," into the stratosphere.
Exposure to sulphur has been linked to innumerable physical and neurological diseases, including reproductive failure, behavioral changes, damage to the immune system, as well as liver, heart and stomach disorders.
Even pro-geoengineering scientist Mark Watson, admits that injecting sulphur into the atmosphere could lead to "acid rain, ozone depletion or weather pattern disruption."
Rutgers University meteorologist Alan Robock also, "created computer simulations indicating that sulfate clouds could potentially weaken the Asian and African summer monsoons, reducing rain that irrigates the food crops of billions of people."

The Guardian report reveals that Gates' money is being spent by the scientists involved on lobbying governments to provide huge public funding for massive geoengineering experiments, despite opposition from prominent environmentalists who warn that the potential dangers are immense.
"The eco-clique are lobbying for a huge injection of public funds into geoengineering research. They dominate virtually every inquiry into geoengineering. They are present in almost all of the expert deliberations. They have been the leading advisers to parliamentary and congressional inquiries and their views will, in all likelihood, dominate the deliberations of the UN's Intergovernmental Panel on Climate Change (IPCC) as it grapples for the first time with the scientific and ethical tangle that is climate engineering," said Clive Hamilton, professor of Public Ethics at the Australian National University.
Increasing awareness of the chemtrail phenomenon has led many to speculate that massive geoengineering projects are already underway.
In 2008, a KSLA news investigation found that a substance that fell to earth from a high altitude chemtrail contained high levels of Barium (6.8 ppm) and Lead (8.2 ppm) as well as trace amounts of other chemicals including arsenic, chromium, cadmium, selenium and silver. Of these, all but one are metals, some are toxic while several are rarely or never found in nature.
The newscast focuses on Barium, which its research shows is a "hallmark of chemtrails." KSLA found Barium levels in its samples at 6.8 ppm or "more than six times the toxic level set by the EPA." The Louisiana Department of Environmental Quality confirmed that the high levels of Barium were "very unusual," but commented that "proving the source was a whole other matter" in its discussion with KSLA.
The lucrative push for research grants related to geoengineering remains intense despite new figures from the UK Met Office and the University of East Anglia Climatic Research Unit confirming that the planet has not warmed since 1997 and in fact the real climate threat could be the onset of a new ice age.
*********************
Paul Joseph Watson is the editor and writer for Prison Planet.com. He is the author of Order Out Of Chaos. Watson is also a regular fill-in host for The Alex Jones Show and Infowars Nightly News.
---
S