Iranian Provocation and 9/11 Style False Flag

InfoWarsNightlyNews.net - February 4-5, 2012

U.S. and Israel Set Stage for False Flag and Iran Attack
Kurt Nimmo
Infowars.com
February 4, 2012


Events over the last several days reveal that the United States and Israel plan to conduct a false flag terror event to be blamed on Iran. The event will likely occur within the next six months and will result in an attack on Iran prior to the November election.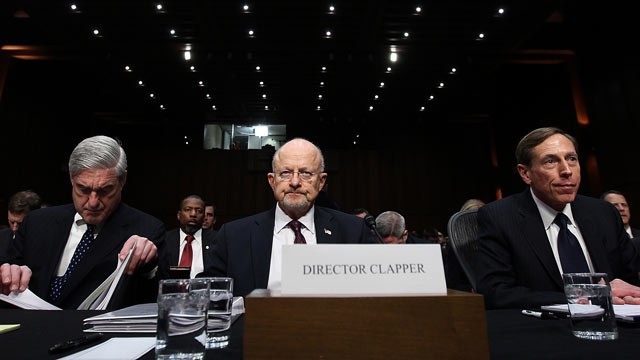 Obama's intelligence chief, James Clapper (center), warned of Iranian terror attacks inside the United States.
Intelligence in U.S. and Israel Warn of Domestic Terror Attack
Officialdom in the United States and Israel have issued a warning about an Iranian "threat stream" against Israeli "soft targets" in America.
The warning arrives several days after Obama's intelligence boss James Clapper said Iran may strike inside the United States,
"We predict that the threat on our sites around the world will increase… on both our guarded sites and 'soft' sites," states a letter sent out by the head of security for the Israeli Consul General for the Mid-Atlantic States.
Guarded sites are Israeli government facilities like embassies while soft sites are Jewish synagogues, schools, and community centers.
Yoram Cohen, the head of Israel's security service Shin Bet, said recently that Iran's Revolutionary Guard will attack Israeli and Jewish targets abroad in response to the assassination of Iranian nuclear scientists.
In January it was reported Mossad was behind the assassination of Iranian nuclear scientist Mostafa Ahmadi-Roshan.
"The thwarted assassination plot of a Saudi official in Washington, D.C., a couple of months ago was an important data point," a nameless official told ABC News, "in that it showed at least parts of the Iranian establishment were aware of the intended event and were not concerned about inevitable collateral damage to U.S. citizens had they carried out an assassination plot on American soil."
Cohen linked the alleged threat to the discredited plot to assassinate the Saudi ambassador in October. A court document in the case revealed that the FBI and the DEA concocted the plot as a sting operation and used failed used car salesman and alcoholic Mansour Arbabsiar as a patsy. Arbabsiar, who is from Iran, thought he was participating in a drug deal.
Despite the fallacious nature of the plot, intelligence officials used it to hype the specter of Iranian terrorism that will likely result in a false flag operation used as a pretext to invade Iran.
"In the past few weeks, there has been an escalation in threats against Israeli and Jewish targets around the world," an intelligence document cited by ABC News states. It warns that demonstrations against Israel "could potentially turn violent at local synagogues, restaurants, the Israeli Embassy and other Israeli sites."
The Israeli bulletin also provides an excuse for the TSA to step-up intrusive pat-downs and demand travelers be subjected to dangerous naked body scanners at airports across the United States.
"According to our evaluation there is a possibility that the forged passports will be used in order to pass as Israeli citizens at the security checks in Israel and around the world. Israeli security authorities may consider an Israeli citizenship as a [criterion] to proceed with a more lenient security check in secure sites such as airports, etc.," the bulletin explains.
The latest warning arrives two weeks after the Turkish newspaper Zaman reported that a cell of the Quds Unit of Iran's Revolutionary Guard planned to attack U.S. embassy in Ankara and other targets across Turkey.
Fast Moving Timeline for War
The latest development follows a number of events over the past few weeks that point toward a concerted attack by Israel and then the United States on Iran:
• DEBKAfile reported earlier in the week that the United States will have 100,000 troops in the region by March. "Pentagon has been quietly massing troops and armaments on two islands located just south of the Strait of Hormuz, and within easy striking distance of Iran," Mac Slavo wrote on January 31.
• On Friday, the establishment media reported that Defense Secretary Leon Panetta said "there is a strong likelihood that Israel will strike Iran in April, May or June," according to the Washington Post. The timeline is predicated on Iran entering an Israeli contrived "zone of immunity" in its unsubstantiated effort to build a nuclear bomb.
• Iran has issued a number of threats in response to punitive oil and economic sanctions devised by the United States and Europe. On Friday, Iran's Supreme Leader Ayatollah Ali Khamenei said in a nationally televised speech that his country will retaliate if Western nations impose crippling oil sanctions. In January, in response to European Union foreign ministers deciding to impose an oil embargo on the country, Iran vowed to shut down the Strait of Hormuz.
• Joint Chiefs of Staff chairman General Martin Dempsey admitted on January 9 that Iran has the ability to close off the strategic shipping lane linking the Gulf of Oman with the Persian Gulf. He said doing so would constitute a "red line."
• In December, in response to Sec. Def. Panetta's not ruling out an attack, Iran announced it would hold a military exercise in the Persian Gulf. The 10 day exercise, dubbed "Velayat-e 90," demonstrated that Iran has the ability to shut down the Strait of Hormuz. The U.S. further exacerbated the situation by sending the aircraft carrier USS John C. Stennis through the Strait of Hormuz while Iran was conducting its war game.
• Russia and China have indicated that an attack on Iran would constitute an attack on their national security. "Iran is our close neighbor, just south of the Caucasus. Should anything happen to Iran, should Iran get drawn into any political or military hardships, this will be a direct threat to our national security," said Dmitry Rogozin, Russia's deputy prime minister and former envoy to NATO, in mid-January.
War President: Re-electing Obama
In November, DEBKAfile said Obama will use war as a re-election tool. "President Barack Obama went on line to America's senior allies, Britain, France, Germany, Italy, Israel and Saudi Arabia, with notice of his plan to attack Iran no later than September-October 2012 – unless Tehran halted its nuclear weaponization programs," the neocon-connected subscriber-only publication predicted.
"Obama's announcement was not perceived as a general directive to US allies, but a guideline to blow the dust off the contingency plans for a strike against Iran's nuclear facilities which stayed locked in bottom drawers for three years," states the report, adding that "Obama's announcement spurred Germany, France, Britain, Italy and Israel into girding their navies, air forces, ballistic units and anti-missile defense systems for the challenges ahead."

Britain's foreign secretary William Hague said in January his country has not ruled out military action against Iran. Britain had dispatched its "most formidable warship HMS Daring" to the Persian Gulf region prior to Hague's remarks.
In 2010, as Obama's job rating began its descent into the abyss, former Clintonite and Democrat operative Mark Penn said Obama needs a domestic terror attack to regain his popularity. In July of that year, another former Clintonite, Robert Shapiro, said the only thing can preserve the Obama presidency is war.
"The bottom line here is that Americans don't believe in President Obama's leadership," said Shapiro, writing for the Financial Times. "He has to find some way between now and November of demonstrating that he is a leader who can command confidence and, short of a 9/11 event or an Oklahoma City bombing, I can't think of how he could do that."
The late Washington Post columnist David Broder was more succinct. "With strong Republican support in Congress for challenging Iran's ambition to become a nuclear power, he can spend much of 2011 and 2012 orchestrating a showdown with the mullahs. This will help him politically because the opposition party will be urging him on. And as tensions rise and we accelerate preparations for war, the economy will improve," he wrote in late 2010.
Tensions will undoubtedly rise if there is a terror attack inside the United States, either against an Israeli target or American one.
It would provide an airtight excuse to unleash the awesome power of the U.S. military against Iran and cast Obama in the adulatory light all "war presidents" receive as the masses fall in line and wave their flags and cheer on "our boys" as they decimate another country and engage in yet another bloody massacre of innocents.
On the Sunday edition of the Alex Jones Show, Alex covers the latest developments in the impending attack on Iran and the distinct possibility of false flag provocations in America, Israel and other countries that are helping them ready an unprovoked attack. Iran has promised to respond to countries participating in the covert and soon overt war against them. Alex also talks about the TSA's "wiener police" as the aviation Gestapo enlist thousands of fast food sellers and other vendors to spot terrorists under the "First Observer" program during today's Super Bowl event in Indianapolis. Alex also takes your calls.

Alex Jones Live Sunday 2012-2-5 (Full)
Thanks to You Tube Channels Astonisher, ConspiracyScope and NWOTaser
InfoWarsNightlyNews.net is not connected with InfoWars.com except in the necessity to get this message out. Some countries or individual servers may be blocking InfoWars Sites but not this one. You can find all the days articles and videos here at InfowarNightlyNews.net should there be a block elsewhere. We credit them with the info on this site and repost all here because of their desires as well as our desires for freedom and liberty. Any comments or questions Email nwotaser@yahoo.com.

---
Jurriaan Maessen
Infowars.com
February 5, 2012
In a 2009 policy paper, published by the influential Brookings Institute, the authors propose almost anything to guarantee dominance of Persia, including such measures as bribery, lying, cheating and mass murdering in the shape of an all-out military assault on Iran. The paper 'Which path to Persia: Options for a New American Strategy toward Iran' is just one of many recent and not so recent examples of an unwavering resolve by the Anglo-American establishment to engage Iran militarily and acquire its natural resources at the same time.
The group of authors — a cozy little convergence of globalists — contemplate four separate options on 'how to deal with Iran' in the cold bureaucratic language that poses as scientific but really amounts to little more than the intelligent musings of a calculating psychopath. The first option, 'Dissuading Tehran' through diplomatic means is being discussed as something tried, tested and discarded into the trashcan of history. The second option, 'Disarming Tehran' covers several ways of rallying the 'international community' around the globalists' intentions. In the third part, 'Toppling Tehran' the warmongering increases as the writers contemplate both covert and overt military action against the Islamic republic of Iran. In the fourth and last section, 'Deterring Tehran' the option of 'containment' is elaborated upon. The proposed final strategy predictably involves all of the above mentioned options, in roughly the same order of appearance.
To ensure the cooperation of surrounding countries, the authors propose bribery as an effective tool. After the authors assert that 'it may be necessary to cut some deals in order to secure Moscow's support for a tougher Iran policy', the authors continue with their 'brainstorming', advising a widespread bribery campaign in order to ensure international cooperation in regards to Iran:
'Other countries also will want payoffs from the United States in return for their assistance on Iran. Such deals may be distasteful, but many will be unavoidable if the Persuasion approach is to have a reasonable chance of succeeding.' And further on: 'To be successful, a Persuasion approach would invariably require unpleasant compromises with third-party countries to secure their cooperation against Iran.'
This means the US will have to cut all kinds of deals with dictators, bloodthirsty local tyrants and other corrupt kings of Arabia- even facilitating them with weapons. Besides rallying the 'international community' around the Anglo-American establishment with the help of these 'unpleasant compromises', the paper stresses it will also be necessary to persuade the Iranians themselves to topple their government (page 39):
'Inciting regime change in Iran would be greatly assisted by convincing the Iranian people that their government is so ideologically blinkered that it refuses to do what is best for the people and instead clings to a policy that could only bring ruin on the country.'
But the authors underline the necessity of creating a favorable climate for the transnationalists in which to operate.

'(…) any military operation against Iran will likely be very unpopular around the world and require the proper international context (…) The best way to minimize international opprobrium and maximize support (however, grudging or covert) is to strike only when there is a widespread conviction that the Iranians were given but then rejected a superb offer- one so good that only a regime determined to acquire nuclear weapons and acquire them for the wrong reasons would turn it down. Under those circumstances, the United States (or Israel) could portray its operations as taken in sorrow, not anger, and at least some in the international community would conclude that the Iranians "brought it on themselves" by refusing a very good deal.'
Here the authors seem to abandon even the facade of civility as they proceed. Even though the authors put these vile warmongering words in quotes, they cannot mask the mindset behind those words. They mean to rally the 'international community' through bribery and deceit- as a steppingstone towards military strikes. The path toward such military strikes will be made smooth by economically strong-holding surrounding countries, forcing them to accept western military action as well as the justifications for it without question.
Military action. This is as acutely on the mind of the current chickenhawks, as the invasion of Iraq was on that of the neocons in the last couple of decades. Apparently, the authors feel compelled to give a justification for the obvious bravura of their manuscript.
'We chose to consider this extreme and highly unpopular option partly for the sake of analytical rigor and partly because if Iran responded to a confrontational American policy- such as an airstrike, harsh new sanctions, or efforts to foment regime change- with a major escalation of terrorist attacks (or more dire moves against Israel and other American allies), invasion could become a very "live" option.'
As this geopolitical feeding frenzy increases, the authors clearly begin to lose their cool as they begin to talk about the real plan behind all this elaborate brainstorming, reflecting on the long-term agenda of the globalists for whom they work:
'Like Iraq', the authors state, 'Iran is too intrinsically and strategically important a country for the United States to be able to march in, overthrow its government, and then march out, leaving chaos in its wake. (…) Iran exports about 2.5 million barrels per day of oil and, with the right technology, it could produce even more. It also has one of the largest reserves of natural gas in the world. These resources make Iran an important supplier of the energy needs of the global economy. Iran does not border Saudi Arabia- the lynchpin of the oil market- or Kuwait, but it does border Iraq, another major oil producer and a country where the United States now has a great deal at stake.'
And exactly in line with their master's tendency of using false flags, they allow themselves the luxury of speculating openly about a possible 'provocation' to escalate things to the point of armed conflict.
'(…) it is not impossible that Tehran might take some action that would justify an American invasion. And it is certainly the case that if Washington sought such a provocation, it could take actions that might make it more likely that Tehran would do so (although being too obvious about this could nullify the provocation). However, since it would be up to Iran to make the provocation move (…), the United States would never know for sure when it would get the requisite Iranian provocation. In fact, it might never come at all.'
Now that would be a great disappointment, wouldn't it? Under the headline 'The Question of a Provocation' on page 66, the authors press the point even further:
'With provocation, the international diplomatic and domestic political requirements of an invasion would be mitigated, and the more outrageous the Iranian provocation (and the less that the United States is seen to be goading Iran), the more these challenges would be diminished. In the absence of a sufficiently horrific provocation, meeting these requirements would be daunting.'
Reminiscent of the Pearl Harbor-quote by raving neocons pre-9/11, the authors continue imagining how excellent it would be to have an Iranian-sponsored terror attack within the US to trigger war and march off toward Iran. During all this, the authors are aware how unlikely it is that Iran would actually commit such an attack on American soil (probably because they know who is usually responsible for such mass terror attacks):
'Something on the order of an Iranian-backed 9/11, in which the plane wore Iranian markings and Tehran boasted about its sponsorship.(…). The entire question of "options" becomes irrelevant at that point: what American president could refrain from an invasion after the Iranians had just killed several thousand American civilians in an attack in the United States itself?'
Regarding the question of international support for an US invasion of the Islamic Republic, the Brookings people lament:
'Other than a Tehran-sponsored 9/11, it is hard to imagine what would change their minds.'
The same goes for their plans in regards to that old favorite of the elite, covert psychological warfare, in order to subdue a sovereign nation. In chapter 7 of the manuscript, called 'Inspiring an Insurgency', it examines the possibility of propagandizing the Iranian people into helping out the globalists loot their nation:
'The core concept lying at the heart of this option would be for the United States to identify one or more Iranian opposition groups and support them as it did other insurgencies in Afghanistan, Nicaragua, Kurdistan, Angola, and dozens of other locales since the Second World War. The United States would provide arms, money, training, and organizational assistance to help the groups develop and extend their reach. U.S. media and propaganda outlets could highlight group grievances and showcase rival leaders.'
Isn't that a familiar sight? Could one way to 'highlight' group grievances be to mass distribute the death of a poor woman and then claim it's all thanks to Twitter?
All this hinting at another false-flag attack underway and prepping the international community for a future invasion of Iran is becoming increasingly serious as the warmongering is being stepped up. This is the time to fix our eyes upon these globalists and their think tanks. If their blatant arrogance permits them to openly publish their bloodthirsty musings, we should be vigilant enough to pass this knowledge around lest we have another 9/11 on our hands.
---