Radiation Permeates Nations Worldwide Through Government Liars : Jerome Corsi on Bankster Laundering

InfoWarsNightlyNews.net - February 2-3, 2012

PrisonPlanet.tv
Tritium Leaking in 48 of 65 Nuclear Sites Across America Reports U.S. NRC
Infowars.com
Friday, February 3, 2012
Aaron Dykes reports on the alarming increase in radiation leaks at nuclear power plants around the world. The latest leak occurred at the San Onofre plant in San Diego, California, after a plant in Byron, Illinois, leaked tritium late last month.

Banksters Accused of Money Laundering through Fraudulent Accounts
Kurt Nimmo
February 2, 2012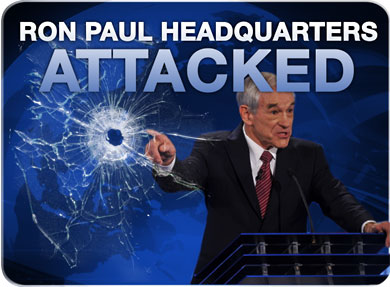 Tonight on Infowars Nightly News, host Aaron Dykes talks with author and WorldNetDaily journalist Jerome Corsi about his recent WND piece detailing an accusation that banking giant HSBC has laundered billions of dollars through fraudulent accounts.
Dykes also covers the following news stories:
A recent attack on Ron Paul's Washington State headquarters. Staffers in the Bellevue office on January 29 reported rocks thrown through windows.
Nature magazine has published an editorial calling for government to regulate sugar like tobacco and alcohol. The editorial makes its case by citing skyrocketing rates of heart disease, cancer, and diabetes.
The alarming increase in radiation leaks at nuclear power plants around the world. The latest leak occurred at the San Onofre plant in San Diego, California, after a plant in Byron, Illinois, leaked tritium late last month.
Aaron covers at story by Paul Joseph Watson revealing a plan by officials in Indiana to use radioactive naked body scanners at the Super Bowl this Sunday.
Hollywood director James Cameron has bought a large tract of land in a remote area of New Zealand and plans to relocate his family there. Does Cameron know something we don't about things to come as the world teeters on the edge of financial meltdown and social crisis?
Dykes also covers an article posted today by Steve Watson covering legislation introduced by five Washington state representatives to override the authoritarian and Constitution-busting NDAA bill cooked up in Congress and signed into law on New Year Day by Obama.
Finally, Aaron talks about a lawsuit filed in federal court as the family of a slain Border Patrol agent try to get to the bottom of the Fast and Furious imbroglio.

HSBC Under Investigation for Laundering Billions! Dr. Jerome Corsi Reports

Infowars.com
February 3, 2012
Dr Jerome Corsi reports on the leak of 1,000 pages of HSBC internal records including customer account ledgers for dozens of companies through which the global banking giant apparently was laundering money each month.

Every Aaron Dykes report is not just news, but history and documentary!
InfoWars Nightly News Thursday 2012-02-02 (Full)
The INFOWARS NIGHTLY NEWS airs weeknights at 7 PM CENTRAL. Become a PrisonPlanet.tv subscriber and help support the broadcast as we try to reach a new threshold of audience reach in attempt to warn humanity about this time of great struggle.
---
Alex talks with researcher and author Fritz Springmeier on the Thursday, February 2 edition of the Alex Jones Show. Springmeier is the author of numerous books, including a revised edition of Bloodlines of the Illuminati, available at the Infowars Store. The 624-page, large format book is a literal encyclopedia of rare, unbelievable information that exposes the dynasties that make up the global elite. Springmeier has authored more than a dozen other books and has made multiple videos and presentations. Alex also covers the latest news, including the mysterious decision by Canadian film director and producer James Cameron to buy a large tract of land in a remote area of New Zealand. Other items covered today include a lawsuit brought against the government in the murder of a Border Patrol agent connected to Operation Fast and Furious and the decision to subject Super Bowl fans to deadly TSA radiation machines. Alex also takes your calls.

Alex Jones Live Thursday 2012-02-02 (Full)
Thanks to You Tube Channels Astonisher, ConspiracyScope and NWOTaser
InfoWarsNightlyNews.net is not connected with InfoWars.com except in the necessity to get this message out. Some countries or individual servers may be blocking InfoWars Sites but not this one. You can find all the days articles and videos here at InfowarNightlyNews.net should there be a block elsewhere. We credit them with the info on this site and repost all here because of their desires as well as our desires for freedom and liberty. Any comments, questions or copyright issues Email nwotaser@yahoo.com.

---
Kurt Nimmo
Infowars.com
February 2, 2012

TEPCO reported today that more than eight tons of radioactive water has leaked from the number four reactor at the Fukushima Dai-Ichi nuclear plant after a frozen pipe burst. The electric company said none of the water reached outside of the stricken reactor containment building.
Fukushima reactor number 4 containment building.

TEPCO failed to winterize the reactor's cooling system and this oversight led to fractures in pipes due to frozen water inside, according to reports.

"I wouldn't say this is a positive development. But it isn't something that would further stoke safety concerns over other nuclear plants," Kenji Sumita, honorary professor at Osaka University, told Reuters. "If it hadn't been for the Fukushima disaster, an incident like this could have gone unreported."

Soon after the earthquake and tsunami that overwhelmed and damaged the Fukushima nuclear plant last year, a long history of covering up mismanagement, accidents, and disasters by TEPCO and its transnational business partner General Electric was revealed.

Most of the cover-ups involved safety violations related to earthquakes. In addition, TEPCO has repeatedly endangered the lives of employees. In 1999, a serious accident at Tokaimura exposed hundreds of people to radiation and resulted in the evacuation of thousands.

"Behind Japan's escalating nuclear crisis sits a scandal-ridden energy industry in a comfy relationship with government regulators often willing to overlook safety lapses," Public Intelligence wrote last March. "Leaks of radioactive steam and workers contaminated with radiation are just part of the disturbing catalog of accidents that have occurred over the years and been belatedly reported to the public, if at all."

In early January, it was reported by a number of sources that radiation from Fukushima has spread worldwide. 20,000 premature deaths in the United States have been attributed to the increased level of radiation, up from an estimated 14,000 in December. Meanwhile, a sudden rise in thyroid cancer has stumped the medical establishment.

In December, a report was released indicating that levels of radioactive cesium had reached 50 million times normal levels in the ocean water off the coast of the Fukushima Dai-ichi facility. Following the report, TEPCO finally admitted that the disaster was ongoing and alarming quantities of radioactive strontium have leaked into the ocean.

Considering TEPCO's history of habitual lies and cover-ups, its latest claim that more than eight tons of radioactive water from the number four reactor is not a threat to public health should not be accepted at face value.

---
Poor Richard's Blog
February 3, 2012
If you look at Afghanistan as well as in Iraq as well as in Yugoslavia you find that wherever these weapons were used you find graveyards of people dying from cancer and other unusual diseases."
Afghan activist Dr. Mohammad Daud Miraki
An Afghan activist reveals the US is still using horrific depleted uranium weapons in Afghanistan, creating graveyards of people who die of cancer and other unusual diseases, Press TV reports.
"These weapons are still used. In fact, a US aircraft called A-10 warthog, normally, even if it doesn't use a uranium projectile in the machine gun, every third projectile is a uranium projectile and that's the working horse of the US army in Afghanistan. They use it left and right," Dr. Mohammad Daud Miraki said in an interview with Press TV.
"Apache helicopters and Bradley vehicles also utilize these projectiles in these weapons," he added.
The activist also noted that 62.7 percent of the population of Afghanistan has been targeted by the dangerous radioactive ammunitions.

Miraki explained that a group of researchers collected urine samples of people in Afghanistan and found uranium isotopes in the urine, which was about 300 percent to 2000 percent higher than normal level.
He further said that a lot of people in Afghanistan were identified with various bizarre diseases in different Pashtun-dominated villages.
The diseases were skin lesions, sudden deaths, spontaneous abortions among females, as well as deformities and multiple cancers.
The author also said the United States used depleted uranium weapons that is against international and US laws.
Meanwhile, Miraki criticized US officials and Afghan President Hamid Karzai for not investigating the crimes committed by the US administration.
"We forwarded [our] reports to the US three years ago to the State Department and from US officials we have gotten only lip service unfortunately. But the Afghan government equally, since it has no control, it's an installed regime," he said.
The Afghan activist also warned that as long as the earth exists the Afghan people will be dying from the disaster because uranium 238 has a half-life of 4.5 billion years.
"If you look at Afghanistan as well as in Iraq as well as in Yugoslavia you find that wherever these weapons were used you find graveyards of people dying from cancer and other unusual diseases," Miraki concluded.
---
When Tech Fails
February 3, 2012
There are nearly 450 nuclear reactors in the world, with hundreds more either under construction or in the planning stages. There are 104 of these reactors in the USA and 195 in Europe. Imagine what havoc it would wreak on our civilization and the planet's ecosystems if we were to suddenly witness not just one or two nuclear melt-downs but 400 or more! How likely is it that our world might experience an event that could ultimately cause hundreds of reactors to fail and melt down at approximately the same time? I venture to say that, unless we take significant protective measures, this apocalyptic scenario is not only possible but probable.
Consider the ongoing problems caused by three reactor core meltdowns, explosions, and breached containment vessels at Japan's Fukushima Daiichi facility, and the subsequent health and environmental issues. Consider the millions of innocent victims that have already died or continue to suffer from horrific radiation-related health problems ("Chernobyl AIDS", epidemic cancers, chronic fatigue, etc) resulting from the Chernobyl reactor explosions, fires, and fallout. If just two serious nuclear disasters, spaced 25 years apart, could cause such horrendous environmental catastrophes, it is hard to imagine how we could ever hope to recover from hundreds of similar nuclear incidents occurring simultaneously across the planet. Since more than one third of all Americans live within 50 miles of a nuclear power plant, this is a serious issue that should be given top priority![1]
In the past 152 years, Earth has been struck roughly 100 solar storms causing significant geomagnetic disturbances (GMD), two of which were powerful enough to rank as "extreme GMDs". If an extreme GMD of such magnitude were to occur today, in all likelihood it would initiate a chain of events leading to catastrophic failures at the vast majority of our world's nuclear reactors, quite similar to the disasters at both Chernobyl and Fukushima, but multiplied over 100 times. When massive solar flares launch a huge mass of highly charged plasma (a coronal mass ejection, or CME) directly towards Earth, colliding with our planet's outer atmosphere and magnetosphere, the result is a significant geomagnetic disturbance.
Since an extreme GMD of such a potentially disruptive magnitude that it would collapse the grid across most of the US last occurred in May of 1921, long before the advent of modern electronics, widespread electric power grids, and nuclear power plants, we are for the most part blissfully unaware of this threat and totally unprepared for its consequences. The good news is that there are some relatively affordable protective equipment and processes which could be installed to protect critical components in the electric power grid and its nuclear reactors, thereby protecting our civilization from this "end-of-the-world-as-we-know-it" scenario. The bad news is that, as of now, even though panels of scientists and engineers have studied the problem, and the bi-partisan congressional EMP commission has presented a list of specific recommendations to congress, our leaders have yet to approve and implement a single significant preventative measure!
Most of us believe something like this could never happen, and if it could, certainly our "authorities" would do everything in their power to make sure they would prevent such an Apocalypse from ever taking place. Unfortunately, the opposite is true. "How could this happen?" you might ask. "Is this truly possible?" Read and weep, for you will soon know the answer.
Nuclear Power Plants and the Electric Power Grid
Our global system of electrical power generation and distribution ("the grid"), upon which every facet of our modern life is utterly dependent, in its current form is extremely vulnerable to severe geomagnetic storms of a magnitude that tends to strike our planet on an average of approximately once every 70 to 100 years. We depend on this grid to maintain food production and distribution, telecommunications, Internet services, medical services, military defense, transportation, government, water treatment, sewage and garbage removal, refrigeration, oil refining and gas pumping, and to conduct all forms of commerce.
Unfortunately, the world's nuclear power plants, as they are currently designed, are critically dependent upon maintaining connection to a functioning electrical grid, for all but relatively short periods of electrical blackouts, in order to keep their reactor cores continuously cooled so as to avoid catastrophic reactor core meltdowns and spent fuel rod storage pond fires.
If an extreme GMD were to cause widespread grid collapse (which it most certainly will), in as little as one or two hours after each nuclear reactor facility's backup generators either fail to start, or run out of fuel, the reactor cores will start to melt down. After a few days without electricity to run the cooling system pumps, the water bath covering the spent fuel rods stored in "spent fuel ponds" will boil away, allowing the stored fuel rods to melt down and burn [2]. Since the Nuclear Regulatory Commission (NRC) currently mandates that only one week's supply of backup generator fuel needs to be stored at each reactor site, it is likely that after we witness the spectacular night-time celestial light show from the next extreme GMD we will have about one week in which to prepare ourselves for Armageddon.
To do nothing is to behave like ostriches with our heads in the sand, blindly believing that "everything will be okay," as our world inexorably drifts towards the next naturally recurring, 100% inevitable, super solar storm and resultant extreme GMD. The result of which in short order will end the industrialized world as we know it, incurring almost incalculable suffering, death, and environmental destruction on a scale not seen since the extinction of the dinosaurs some 65 million years ago.
The End of "The Grid" As We Know It
There are records from the 1850s to today of roughly one hundred significant geomagnetic solar storms, two of which in the last 25 years were strong enough to cause millions of dollars worth of damage to key components that keep our modern grid powered. In March of 1989, a severe solar storm induced powerful electric currents in grid wiring that fried a main power transformer in the HydroQuebec system, causing a cascading grid failure that knocked out power to 6 million customers for nine hours while also damaging similar transformers in New Jersey and the United Kingdom. More recently, in 2003 a solar storm of lesser intensity, but longer duration, caused a blackout in Sweden and induced powerful currents in the South African grid that severely damaged or destroyed fourteen of their major power transformers, impairing commerce and comfort over major portions of that country as they were forced to resort to massive rolling blackouts that dragged on for many months[3].
---