Ron Paul in South Carolina, Jabba the Newt
InfoWarsNightlyNews.net - January 20-21, 2012

South Carolina primary news; Mike Adams on Chemo Dangers; Pepe Escobar on Iranian War Tensions; Marjorie Farabee tries to stop Donkey Killings

Infowars Nightly News
PrisonPlanet.tv
January 20, 2012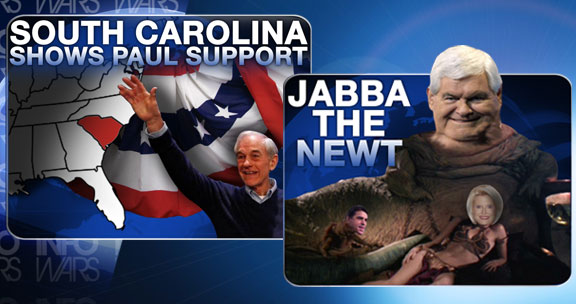 Tonight, on this Friday, January 20, 2012 edition of the Infowars Nightly News:
• Guest Mike Adams of NaturalNews.com will discuss breakthrough research that suggests chemotherapy can be more dangerous than helpful, as findings show it can multiply the chances of tumors and the presence of cancer in patients.
• Asia Times reporter and geopolitical expert Pepe Escobar also joins the program to discuss the latest on the brewing war against Iran, and other tension in the Mid East region.
• Marjorie Farabee also appears on the program to discuss her Wild Burro Protection League and its efforts to stop the wanton killing of donkeys being killed at Big Bend Ranch National Park under environmental pretenses. She delivered more than 100,000 signatures to the Texas Capitol in a petition aimed at defending the animals.
• In the news segment, guest host Rob Dew covers the coming age of cyborgs, as living brains have now been implanted with electronic chips to replace 'faulty'– i.e. mortal– parts. Scientists hope it will signal the cures for degenerative diseases like Parkinson's, but is it the beginning of the end for humanity as we know it? Other efforts have long ago been launched to push chipping humans with RFID chips for the purpose of tracking and tracing the population under a high-tech control grid.
The INFOWARS NIGHTLY NEWS airs weeknights at 7 PM CENTRAL. Become a PrisonPlanet.tv subscriber and help support the broadcast as we try to reach a new threshold of audience reach in attempt to warn humanity about this time of great struggle.
InfoWars Nightly News 2012-1-20
---
On the Friday, January 20 edition of the Alex Jones Show, Mike Adams hosts. Mike talks with Dr. Pieter J. DeWet, a practitioner of Wellness medicine since 1997. He is the owner and medical director of Quantum Healing Institute in Tyler, TX and a Weekly Co-Host of Healthy, Wealthy & Wise radio. DeWet is the author of Heal Thyself: Transform Your Life, Transform Your Health. Mike also talks with Tisha Casida, Independent candidate for Colorado's 3rd Congressional District, Dr. Edward Group who is the founder of Global Healing Center, and regular Friday guest Bob Chapman of the International Forecaster.

Alex Jones Live 2012-1-20
Thanks to You Tube Channels Astonisher, ConspiracyScope and NWOTaser
InfoWarsNightlyNews.net is not connected with InfoWars.com except in the necessity to get this message out. Some countries or individual servers may be blocking InfoWars Sites but not this one. You can find all the days articles and videos here at InfowarNightlyNews.net should there be a block elsewhere. We credit them with the info on this site and repost all here because of their desires as well as our desires for freedom and liberty. Any comments or questions Email nwotaser@yahoo.com.
---
blog comments powered by

Disqus